The CBIHP project expands humanitarian assistance to underserved Malagasy communities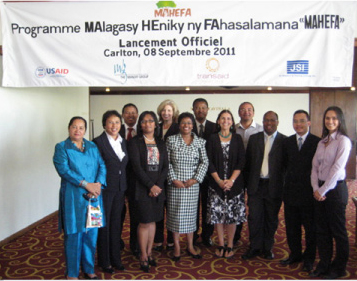 Staff member of the CBIHP team pose at the central office in Antananarivo

USAID and John Snow, Inc. (JSI) have launched an innovative new public health project: The Community -Based Integrated Health Program (CBIHP), aslo known as the Malagasy Healthy Families (MAHEFA) Initiative. The official launch of CBIHP on September 8, 2011 coincided with the celebration of 50 years of USAID assistance worldwide.

USAID has been working in Madagascar for over 20 years but until 2011, public health efforts had primarily focused on the eastern and southern parts of the country. The launch of CBIHP signified the beginning of a long term commitment made by USAID and its partners, including John Snow Inc., to provide humanitarian support for Madagascar's remote and disadvantaged regions in the North and West.

CBIHP targets nine under-served, remote communes (counties). The initiative seeks to improve access to and use of high quality services for women and children. Community Health Workers (CHWs) have played a central role in the program, providing counseling and services for mothers, children and newborns, in fields such as: family planning; reproductive health; prevention and treatment of malaria; diarrhea and pneumonia; nutrition; improved hygiene practices; and access and use of potable water. It is projected that by the end of the program, over 73% of the communes in Madagascar will be reached with these essential services.

Within a few months, CBIHP has already staffed a central office in Antananarivo, opened one regional field office, and is preparing to open three additional field offices in the up-coming months. Activities have begun at the local level, enabling CBIHP to begin addressing impediments to the efficiency and efficacy of community-based service delivery and referral services. CBIHP has reached out to local Malagasy organizations and community leaders to build capacity and ensure sustainability for the new interventions.

CBIHP illustrates the pursuit of excellence in evidence-based public health program design. Individuals, families, neighborhoods and counties will be strengthened in their capacity to prevent and address illness as a direct result of USAID and JSI's work in these remote and underserved communities.


Related Project:
Madagascar Community-Based Integrated Health Program (CBIHP -also called MAHEFA) (2011-2016)