Improving health outcomes in rural Ethiopia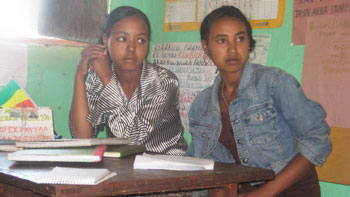 Messeret (l) and Mule (r) at the Kersa Harbu Kene Kebele Health Post. (Photo: S. Geremew)


The Kersa Harbu Kenne kebele is one of L10K's Community Solutions Fund (CSF)- targeted districts in the East Wollega Zone of the Oromiya Regional State. It is also one of Gida Ayana Woreda's model kebeles.

The Kersa Harbu Kenne Health Post is run by Meseret and Mule, two young ladies whose dedication to their work, community, and each other is evident as they discuss their accomplishments: the heath post has achieved 100 percent performance of each of its planned activity over the past six months, and all homes in the kebele have model household status. The HEWs attribute their success to the volunteer community health workers' (vCHWs) tireless efforts in informing fellow community members about maternal, newborn, and child—as well as overall family—health. They also mention the helpful technical support that they receive from the kebele manager and the woreda health office.

At an initial CFS meeting, the HEWs and the community agreed that the lack of electricity and access to water at the health post, and bad roads were major barriers to improved service delivery. Because most births occur at night, the community recognized that, out of the aforementioned barriers, electricity presented the most pressing gap and concluded that using electric light, as opposed to candles, would significantly increase the safety of deliveries.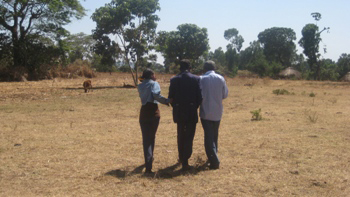 (Left to right) Mule, Negassa, and Amano, a JSI/L10K staff member, walk toward the gott, or village, where Negassa works as a vCHW. (Photo: S. Geremew)


"We realized that since we always carry reserve water to the health post, we could just as well carry laboring mothers there, despite the bad roads. Although those (transportation) barriers will have to be overcome in the future, installing solar energy was the priority for ensuring better service delivery," explained Meseret.

A CSF committee, in this case the kebele Idir (a burial association that provides mutual support in relation to death and other social issues), was established at Kersa Harbu Kene. The Oromiya Development Association, one of L10K's local partners, purchased the solar energy installation equipment, and each household made contributions to have the equipment transported from Jimma (some 367 kilometers away) to the kebele.

In addition to installing solar power, the CSF committee, kebele administration, and the community hired a guard for the health post. His salary is paid by monthly contributions of 2 Birr from each household.









Related Project:
The Last Ten Kilometers: What it Takes to Improve Health Outcomes in Rural Ethiopia (2007-2015)