Innovative mobile phone use improves access to drugs and medical supplies in Africa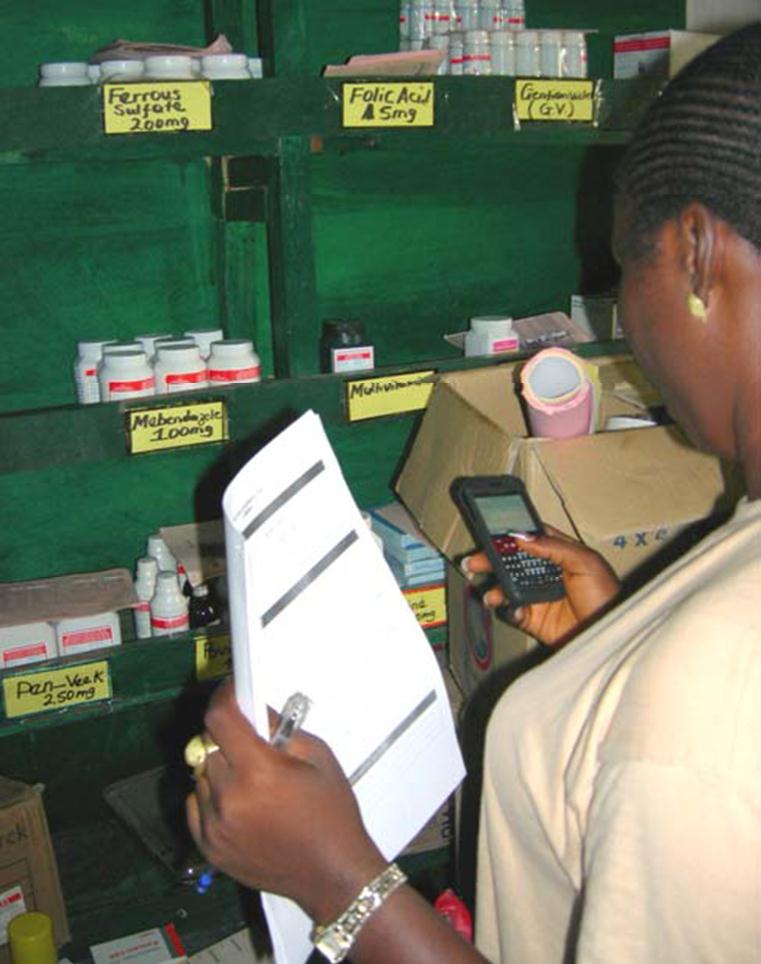 mHealth initiatives are gaining ground in developing countries, where a lack of infrastructure leaves few options for swift communication. In Liberia, the National Drug Service collects stock data from health facilities using mobile phones.




In Many African countries, health centers face difficulties getting the drugs and medical supplies they need for their patients. To ensure that critical commodities read service delivery sites, the USAID | DELIVER PROJECT, managed by John Snow, Inc., is working with African ministries of health to strengthen the supply chain in the public health sector.

Through three mHealth (mobile health) initiatives in four countries—Tanzania, Ghana, Liberia, and Zambia—the project has introduced innovative mobile phone technology to overcome infrastructure challenges. With mobile phone applications, health workers are able to collect and disseminate logisitics.


Mobile Phone Survey Software Supports the Malaria Medicines Supply Chain
In Collaboration with the President's Malaria Initiative (PMI), the USAID | DELIVER PROJECT spearheads the adoption of EpiSurveyor, a mobile phone survey softare, for End-Use Verification. This tool enables data collectors to efficiently gather and and analyze stock availability and case management data for malaria medicines at health facilities each quarter. EpiSurveyor has replaced paper-based data collection and, by automating data entry analysis, has improved the speed and accuracy of completing and disseminating quarterly reports. Since its inception in Ghana in July 2009, the project has adopted EpiSurveyor for End-Use Verification and other activities in the three additional countries: Liberia, Tanzania, and Zambia. The USAID | DELIVER PROJECT works in partnership with the PMI, the USAID missions, the malaria control programs, and the ministries of health (MOHs) in these countries. The information gathered through mobile phones provides quick, actionable information to PMI, USAID, MOHs, and in-country partners regarding stockouts, supervision and training problems, expiring drugs, and more; it enables decisionmakers to intervene sooner to resolve potential problems.


Tanzania: SMS Reporting System for Reproductive Health
In Tanzania, the country's public health logistics system is being enhanced with a reporting system that uses SMS text messages and USB-powered bar scanners to more efficiently collect stock status information. Users will be able to access such information through a website, creating greater visibility of stock levels at service delivery points and ampowering logistics managers to identify and prevent chronic stockouts of reproductive and other health commodities.

Beginning in November 2010, the reporting system, called the Integrated Logistics System (ILS) Gateway, will be tested in several districts. The USAID | DELIVER PROJECT is working with the Reproductive and Child Health Sections of the Tanzanian Ministry of Health and Social Welfare and the USAID mission in Tanzania to develop this and other technological innovations to address weaknesses in the logistics system.


Ghana: Early Warning System to Moniter Stockouts of Essential Medicines
The USAID | DELIVER PROJECT provided technical assistance to the USAID-funded Focal Health Regions Project (FRHP) in Ghana to design a mobile phone-based early warning system that will alert decisionmakers of pending stockouts of essential medicines in the public health supply chain. A pilot project to test the system was implemented in the spring of 2011.

The USAID | DELIVER PROJECT continues to look for ways to leverage technology to strengthen supply chains and improve access to drugs and medical supplies in developing countries. With the proliferation of mobile phone technology—and an increasing number of successful implementations in the field—the use of mHealth is sure to grow.