Linking hands and sharing stories to end cancer stigma on World Cancer Day in Mexico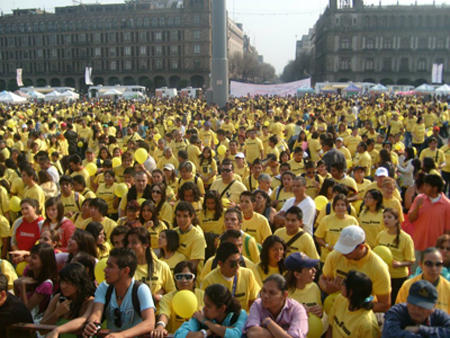 Attendees of the Comparte Tu Historia World Cancer day Event gather in before the stage to see live performances and hear speeches given by cancer survivors.




"Si Se Puede! Si Se Puede!" The chant rang out in the square, rising up from the enormous crowd of people, their hands clasped as they repeated the simple, yet powerful affirmation: "yes you can."

This attitude of solidarity and optimism has been changing the lives of those affected by cancer in Mexico since the launch of the Comparte Tu Historia project in 2011. The project, funded by LIVESTRONG in association with JSI, addresses the stigma surrounding cancer in Mexico by broadcasting the stories of those living with the disease. By sharing their personal journeys with cancer, survivors encourage those who have been diagnosed to stay hopeful, advocate for their own health, and seek the support of their friends and family—behaviors that are often avoided because of anxiety, modesty, and the incorrect assumption that a cancer diagnosis is a death sentence.

Silvia Nolasco Martinez, a single mother diagnosed with breast cancer is one of the people who have shared their stories through Comparte Tu Historia."I think we're lacking a lot of education in Mexico," Siliva exlpains. "There are a lot of people who don't like to talk about cancer. There are campaigns that offer mammograms and other tests, but people don't go out of fear that they'll detect a problem. We must get routine screenings so we have a better chance of detecting before it's too late."

Silvia hopes that by telling people about her journey from diagnosis to chemotherapy and beyond, she can help other cancer sufferers prepare for what lies ahead, encourage them to seek support, and give them hope that there is life after cancer.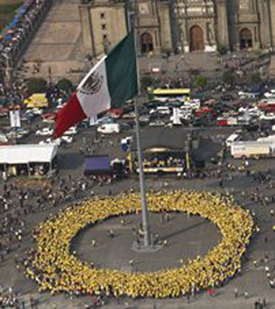 Roughly 5,300 people join hands around the Mexican flag, breaking the Guiness World Record for "Longest Human Awareness Ribbon"

On February 4, 2012, the efforts of Comparte Tu Historia and the stories bravely shared by people like Silvia culminated in an overwhelming and historic demonstration of solidarity and hope in the face of cancer; That sunny Saturday afternoon in Mexico City's Plaza Zocalo, over seven thousand survivors and supporters gathered to observe World Cancer Day. The event featured performances by popular Mexican musicians, crowd-wide Zumba™ dancing, and emotional speeches made by cancer survivors. Mobile screening units were erected around the periphery of the plaza, offering free mammograms and other tests sponsored by the Government of Mexico City.

The main event was the record-breaking attempt to form the largest 'human awareness ribbon.' At 3:30 pm, the enormous crowd, clad in yellow t-shirts, circled the flagpole at the Plaza's center and, on the command of the MC, joined hands to create an enormous living bracelet in homage to LIVESTRONG's emblematic yellow wristband. Aerial photographs taken from a helicopter captured the powerful image of over 5,298 people joined together around the Mexican flag.

The overwhelming success of the event marks a shift in the cultural awareness of cancer in Mexico City thanks, in large part, to the work of JSI's Comparte Tu Historia project team. JSI had originally planned for the event to take place at the city's Monument of the Revolution but the expected attendance grew so rapidly that the municipal government requested that it be moved to Zocalo, the city's most prominent public space. All of the city's major TV networks, radio stations and newspapers covered the record-breaking event, broadcasting the strength and optimism created by a group of strangers who joined up to face a difficult disease together.

The message from this group was clear—that in the fight against cancer, there is strength in numbers and power in sharing stories. As Silvia says, 'I like to tell people I have cancer so they can see you can live with this—you can live with cancer. To have cancer is to have a lot of strength."


Related Project:
Mexico LIVESTRONG Comparte Tu Historia Project (2010-2012)