Partnering to educate and keep youth safe in Ukraine
On a warm autumn day in the small town of Derazhnya, Ukraine, a U.S. Peace Corps volunteer named Becky Robinson was scouring the internet for teaching materials on sexual education, family planning and reproductive health. She wanted to give these materials to the local school psychologist (in addition to any interested school teachers) who was preparing to teach high school students about healthy lifestyles.

Becky and the school psychologist named Tetyana Solomya knew it would be a challenge to teach sexual education in a country where there's a cultural stigma against talking about sex and where the rate of unwanted teenage pregnancies remains high and even doubles in rural areas like Derazhnya. It was important that the content of the informational materials be relevant, accurate, and responsive to reality on the ground.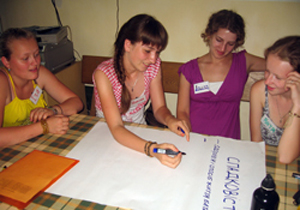 High school students record the most important concepts they learned in their family planning and reproductive health classes during the Peace Corps Summer Camp in Kolomya, Ivano-Frankivsk region of Ukraine. The class was taught by a certified trainer from USAID's Together for Health initiative and was based on a professionally developed, culturally appropriate curriculum and materials.

Becky's search results pointed her to the USAID Together for Health website, where she found professionally developed, culturally sensitive teaching and informational materials in the native language, Ukrainian. She was excited about these resources and emailed Together for Health's behavior change director to request additional information. She couldn't know at that time that she was setting in motion a close, fruitful partnership between Peace Corps volunteers and Together for Health.

The Together for Health project seeks to improve the health of women, men, and families in Ukraine by helping people adopt modern family planning and reproductive health practices that will improve their lives, promote family health and reduce levels of abortions. The project gave Becky a full range of professionally developed information, education and communication (IEC) materials, which she presented and discussed with Tetyana. Tetyana used the materials to teach the school's first sexual education class.

Recognizing the value of Together for Health's thorough curricula and IEC materials, Becky and Tetyana helped organize the town's first workshop for psychologists from neighboring schools, which was taught by a trainer from Together for Health.

Soon after that, Becky shared her experience with her colleagues at a regional Peace Corps meeting in Kiev, which generated additional interest. During the next six months, Together for Health provided materials to 12 more Peace Corps volunteers located throughout Ukraine at their request.

"Without Together for Health, I would not have been able to talk to my Ukrainian peers and colleagues about a subject as sensitive as family planning. I know both my Ukrainian and American colleagues are relieved to have Together for Health as a resource," Becky explained.

Together for Health was thrilled to share materials with Becky and other Peace Corps volunteers so that more people&mdashespecially youth in small towns with limited access to information—would benefit. As well as providing Peace Corps volunteers with materials, Together for Health helps connect the volunteers with local counterparts to conduct additional targeted trainings for teachers, community leaders, and interested representatives of governmental and non-governmental organizations.

With each day, the unique partnership between Together for Health and Peace Corps Volunteers grows stronger and the project materials spread to more remote cities in Ukraine. Most recently, Together for Health trainers were invited to conduct interactive classes and games for boys and girls at the Peace Corps summer camp held in the Carpathians.

Although the Together for Health initiative is scheduled to end in November 2011, the partners are confident that the strong relationship they have forged has laid the foundation for the continued use of the Together for Health materials, which will remain on the website. In that way, critical information about family planning and reproductive health will reach additional localities, and this unique partnership will serve as an example of successful collaboration for future projects.


Related Project:
Ukraine Together for Health: Improving Family Planning and Reproductive Health in Ukraine (2005-2011)