Talking about sex in schools sparks a wanted discussion in Uganda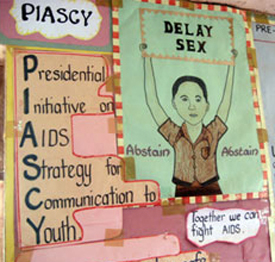 A poster at the Buddo Junior School. Students are taking steps to protect themselves against HIV in large part because of a change in curriculum and school activities that promote abstinence. Photo by John Donnelly.

When Uganda unveiled a program promoting abstinence to primary school students in 2004, a furor erupted. Church leaders, parents, even teachers in this traditional society disapproved of the directness of the initiative's messages, which were designed to help children protect themselves against HIV and unwanted pregnancies. The program called for talking about sex in great detail—to students as young as six-years-old.

But then children silenced the adults.

"When we went to children with the information, we found that what we thought was too strong, they thought was too soft," said William Sebuliba Kayongo, headmaster of Buddo Junior School, an Anglican-run institution west of Uganda's capital Kampala that opened in 1906. "Where we were being modest, the children were being very open. They showed this in the pictures they drew, the stories they wrote, and the questions they asked."

With such hunger for information, the program blossomed. The $5 million Uganda Presidential Initiative on AIDS Strategy for Communication to Youth (PIASCY), has spread to the country's 15,000 primary schools in three years. Funded by the United States Agency for International Development (USAID) through the UPHOLD program, the initiative has especially taken root in 1,078 "model" schools, including Buddo; that number of model schools is set to double by the end of the 2007-2008 school year.

But such numbers only hint at the impact of the program—at least after hearing from the children.

On a recent morning, Kayongo, the headmaster, strode into a primary six class, and began testing the students.

"What should we do to people who have AIDS?" he asked in his booming voice to a class of 73 students, all clad in red uniforms. "Should we shun them, or even kill them, so the virus will not be allowed to spread?"

Hands shot high.

"We should show them love and care," said Amanda Nakagwe, 11.

"We should help them go for medical assistance and give them counseling," said Audrey Kebirungi, 11.

"That's right, children, we give them love and care," Kayongo said.


Ronah Namuwonge, Pamela Akello, and Margaret Mbabazi, all 13, have taken the messages of abstinence until marriage to heart as a way of protecting themselves from HIV infection. Photo by John Donnelly.

The program isn't limited to the classroom. AIDS-fighting messages are spread throughout schools. Teachers encourage students to talk about their new knowledge with parents and friends in the community. And many teachers say after the lessons, some students approach them to talk about incidents of bad behavior—either that they have witnessed or experienced first-hand.

In a break between classes, three primary seven students reflected on the program's impact. They were sitting outside on a bench surrounded by signs about AIDS or behavior, which were planted by the dozens in the grass or nailed to trees. "Abstain from premarital sex," said one. "Live your life with a purpose," said another.

"It's good to talk about this," said 13-year-old Pamela Akello, from the northern Ugandan town of Kitgum. "I came to know about my body. It built up my faith to be strong in resisting the kind of evil that would put me in unsafe situations, where men could want sex. I will not put my head down to them. I will speak boldly to them because this life is mine."

Ronah Numuwonge, 13, from Kampala, nodded in agreement. "I was very happy with the program," she said. "Maybe I could find a problem in my near-future—a problem like someone wanting premarital sex. I don't want it because it's dangerous."

The third girl, Margaret Mbabazi, 13, from the western Ugandan community of Kamwenge, said she has experienced the dangers first-hand. AIDS, she said, claimed her aunt and a cousin. Another cousin, while taking antiretroviral medicine, remained seriously ill. "It's very difficult, but we all are trying to give her the help she needs," Mbabazi said.

Still, the girls expressed doubt about whether the lessons would fully protect them. They believed many would abstain from premarital sex, but, said Mbabazi, "not everyone can. Some people are forced into sex for many reasons."

The program's true test will be in the coming years, watching children's ability to use the information in their lives, said Alice Mugoya Ibale, UPHOLD's coordinator for the PIASCY program.

"Kids have the information—they know how AIDS is spread and how to prevent it. But you can't tell if they are assertive enough that if they were sexually harassed, whether they would say anything." One encouraging development, she said, was that teachers across Uganda were reporting that children were walking more in groups in potentially vulnerable areas, including on long walks home and bringing materials to the homes of teachers and other adults.

Akello, the 13-year-old from northern Uganda, said she now is much more wary of strangers' intentions. "Some people attempt to give you gifts, little things like sweets," she said. "But if anyone tries to do that with me, I will say I don't need it—because it may be for sex."


Related Project:
Uganda Program for Human and Holistic Development (UPHOLD) (2002-2008)