Speaking out about victory over cancer to reduce cancer stigmas across South Africa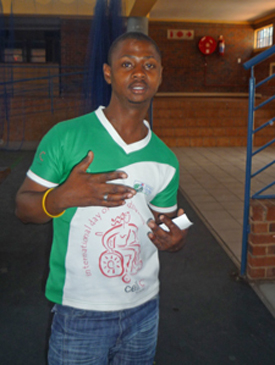 Siya, a cancer survivor, is telling his story in the door-to-door campaign to help reduce stigma about cancer.




"Everyone must know that they can't run away from it, they must face it. I've been there," Siya says, "so I want to share my story with everyone." What is Siya's story? He is 22-years old and a cancer survivor.

Siya is drawing upon his own personal victory over cancer to fight cancer stigma through a door-to-door campaign run by the John Snow, Inc. (JSI) and LIVESTRONG Cancer Anti-Stigma Initiative.

Siya was diagnosed with leukemia as an infant. And as an infant, he and his mother were affected by stigma because friends and relatives were unsupportive—some even assumed Siya was HIV positive. This stigma forced Siya's mother to run away from her family. Shortly thereafter, Siya had to be permanently admitted into a hospital where he spent the next ten years of his life. Then things took a turn for the worse when his mother abandoned him.

As he recounts his story, Siya is emotional when he remembers his only source of support. His granny, as he calls his grandmother, came back into his life, pulled by her sense of endearment for her grandchild. "She came looking for me at the hospital. And she was there for me when no one else was."

When his granny passed away in 1999, it became a turning point for him; change began when he learned to walk just so he could attend the funeral. This was when he decided he would be strong for her by taking on cancer and not letting cancer take over him.

Twelve years later, Siya is reaping the benefits of his positive attitude. His cancer is in remission and he is living a healthy and vibrant life. Most excitingly, he is sharing his positive attitude with his community in Soweto through the JSI and LIVESTRONG Cancer Anti-Stigma Initiative's door-to-door campaign. The Initiative works to reduce cancer-related stigma through culturally relevant and targeted messaging that raises awareness of cancer and cancer stigma. By collaborating with local cancer organizations and encouraging survivors to tell their stories, the Initiative promotes awareness messages and increases knowledge to successfully confront fears and misconceptions about cancer in the South Africa.

The door-to-door campaign is a key aspect of the Initiative's efforts as it brings home, through a very personalized method, anti-stigma messages that the Initiative is broadcasting across South Africa through television and radio.

As a door-to-door campaign volunteer, Siya is taking advantage of the opportunity to raise awareness about cancer and to share his positive 'cancer can be beaten' attitude with his community. Siya reveals that it is not always easy to share his story; there is still a significant stigma due to people's fears about the disease. But Siya carries on and continues to share the facts about cancer with his community. "Slowly," says Siya, "people have begun to realize that cancer is not a death sentence; it can be beaten."


Related Project:
South Africa - Cancer Anti-Stigma Initiative (LIVESTRONG-JSI ) (2010-2011)