Engaging people to be tested for HIV through more effective messaging in Kenya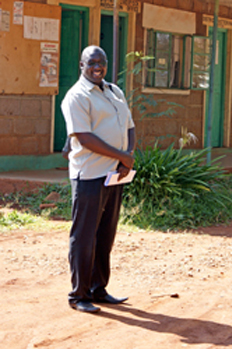 Dr Fred Okango outside the Matibabu Clinic in Ukwala District, Western Kenya. Photo by Amanda Schoenberg / Tiba Foundation.


"When we started we took it one day at a time and often felt overwhelmed because of the sheer magnitude of HIV cases," says Dr. Fred Okango, Technical Director at the Matibabu Clinic in Western Kenya. "We saw HIV patients two days a week, and we'd see about 120 to 180 patients a day. I didn't have time to think; I'd just shuttle from one patient to the next… we all would.

"At the time we didn't have nearly enough supplies or drugs, let alone ARVs to treat AIDS," continues Dr. Fred. "The PEPFAR NPI grant has helped us buy commodities, pay staff, and get lab tests done. But just as important, JSI's technical assistance that came with the NPI grant has strengthened us and enabled us to prepare for the future."

In 2008, the Matibabu Foundation was awarded a President's Emergency Plans for AIDS Relief (PEPFAR) New Partner's Initiative (NPI) grant that provided resources to offer expanded HIV services in their community.

In conjunction with the PEPFAR award for HIV services, which comes through the U.S. Centers for Disease Control and Prevention (CDC), Matibabu also received technical support from John Snow, Inc. (JSI) and its partner, Initiatives, Inc., to strengthen its management and technical capabilities. The support to Matibabu is managed through the Technical Assistance to the New Partners Initiative (TA-NPI) team based in East Africa.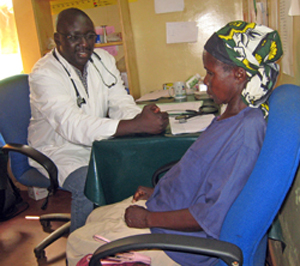 Dr Fred Okango outside the Matibabu Clinic in Ukwala District, Western Kenya.
Photo by Amanda Schoenberg / Tiba Foundation.

The TA-NPI project team began its work with Matibabu by conducting thorough management and technical capacity assessments. While the OCA helps Matibabu organize its service, the technical capacity assessment (TCA) focused on how Matibabu delivered HIV services.

The TCA looks at critical approaches to HIV care, including comprehensive prevention, HIV counseling and testing, prevention of mother-to-child transmission of HIV, home-based care, and care for orphans and other vulnerable children. Matibabu's technical assessment led to several recommendations to strengthen staff skills in cross-cutting approaches to care.

"One of the issues that came out of the assessment was how we approached giving HIV prevention messages," says Dr Fred. "We realized that raising awareness was not enough—in fact, 90% of people knew something about HIV already, but they weren't changing their behavior. We've learned from the literature that you typically need five encounters with someone before they change their behavior. In the first year, we would essentially gather a large group of people around, talk about HIV, and then count the number of people in attendance and report that we had delivered health information to however many people had been there. We never looked at whether people actually changed their behavior.

"When TA-NPI helped us examine our approach, we also realized that we were providing information from many different sources and it wasn't necessarily all up-to-date. We recognized the need for more standardized prevention messages that would work with our populations—and we needed a curriculum to help us make sure that everyone was conveying the same messages effectively so that people not only had appropriate information but knew where to go to get tested.

"Once we realized all this, we began using the Government of Kenya-approved Manisha curriculum. We increased the number of information sessions we had in communities and decreased the number of people attending. We found that in some of the smaller groups, 100% of the people then went for HIV testing—we could see the impact immediately and it was a great success!

"We are now working with TA-NPI to adapt the AMREF Manisha curriculum based on everything we know about our target populations as well as what we know about how people learn and what is effective around HIV counseling. We'll use the curriculum when we train trainers, who will then go out and use the curriculum with in-and-out of school youth and women in peer education groups.

"We believe this approach will help in sustaining the messages because the trained peer educators will continue even after the NPI program ends."
Related Project:
Technical Assistance to the New Partners Initiative (TA-NPI) (2008-2013)