Local trainees help and guide mothers through their pregnancy in Ethiopia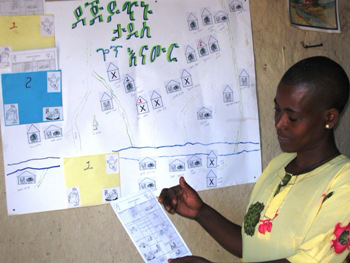 As a VCHW in a CBDDM target woreda, Dejyetnu uses a pregnancy, delivery, and child follow-up checklist. (Photo: B. Gelaw)


Dejyetnu Tadesse, an energetic 29-year-old mother of two, lives in the rural kebele (neighborhood) of Kurar, in the Dejen woreda of Ethiopia. When Dejyetnu was invited by organizers of the Gates Foundation's Last Ten Kilometers (L10K) initiative to become a volunteer community health worker (VCHW), she happily agreed and began attending trainings on maternal and child health practices. The Last Ten Kilometers project is a Gates Foundation-funded initiative, managed by John Snow, Inc., to create sustainable health services for rural areas in Ethiopia by connecting remote communities and training local people to provide basic health services and maintain information systems.

Dejen is one of the woredas in which the L10k program has implemented the Community-Based Data for Decision Making (CBDDM) initiative, which recruits local people to help map the health information of their neighbors in order to improve health systems design and optimize service delivery for remote communities. Through CBDDM, Dejyetnu received additional training on how to create health data maps for her catchment area.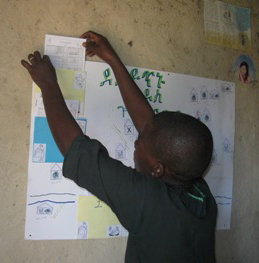 Dejyetnu shows visitors her map and score cards. (Photo: B. Gelaw)




Dejyetnu is proud to be a VCHW and talks about her responsibilities enthusiastically. "There are currently two pregnant women I am counseling and following. Both of them have had two visits to the kebele health post and have upcoming appointments. Their weights were measured and their abdomens examined to check the status of their pregnancies. They are taking iron tablets and have received the required injections. Each woman was also tested for HIV."

Dejyetnu says that the women visited the health post after she encouraged them and provided them with family health cards. "I work hard to ensure that the members of my village, especially the women and their babies, are healthy," Dejyetnu affirms.

Dejyetnu recounts recent visits to the home of a newborn. She provided the mother and family with health messages about how to take care of the baby and arranged to have health extension workers (HEWs) visit the home when he was born. "On the side of my map, I have a separate card that helps me follow up on the newborn. He is currently 10 days old, in good health, and being breastfed," says Dejyetnu with confidence.

With guidance from HEWs and kebele health committee members, Dejyetnu updates her map and tracks the progress of each of her households on a regular basis. "I discuss my work with each household with the HEWs and other VCHWs during our monthly review meetings. The family members are very happy with what I do."

"Look," Dejyetnu says, smiling and indicating her map. "I know where they are on this map and have different cards for every pregnant woman. The cards help me monitor their stage of pregnancy and how they are doing."
Related Project:
The Last Ten Kilometers: What it Takes to Improve Health Outcomes in Rural Ethiopia (2007-2015)