Pharmacies are improved in Chuquisaca, Bolivia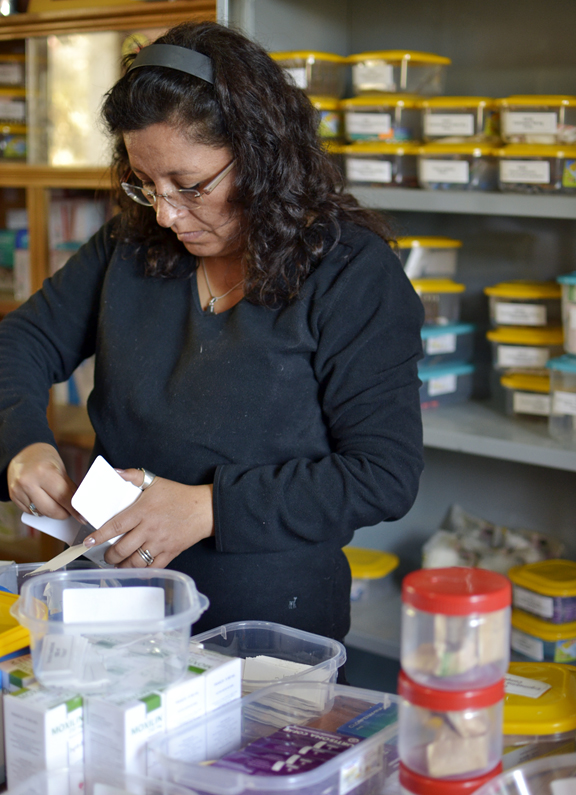 Biotechnician Karina Garcia organizes la Palka health center's pharmacy, separating medicines and supplies by generic name, expiration date, and lot number. The process only takes a few hours, but the new organization system and inventory list she is creating will be a sustainable way for the pharmacy to track its medication quantities and their respective expiration dates.

CHALLENGE
Rural health center pharmacies in the Chuquisaca region of Bolivia tend to serve several local communities, but are largely underserved and unorganized. The Essential Medicines List (EML) is often not present in the pharmacy, and medications, antibiotics, and vaccinations are sometimes unavailable, expired, or stored incorrectly. Pharmacy attendants, who are often nurse auxiliaries—not pharmacists—by trade need training in proper pharmacy maintainance to ensure that they are able to meet the medicinal needs of the impoverished communities they serve.

INITIATIVE
Beginning in 2008, the Health Management and Quality Project (GCS) implemented a project to strengthen the municipal institutional pharmacies of Bolivia. Project activities included: coordinating with rural pharmacies; organizing and documenting inventories; cross-checking available medications with the EML; and training pharmacy attendants in sustainable pharmacy maintenance. The process took only a few hours at each pharmacy and was largely carried out by trained recent pharmacy, biochemistry, and nursing program graduates.

Project implementers alphabetize medications by generic name, using sealed plastic containers with labels (medicine name, strength, and formulation) provided by the program to store each medication. A working inventory of the medications and expiration dates was created and the pharmacy attendant trained to maintain the inventory listing and the new organization system. Materials, including the following, were given to each pharmacy: the EML and inventory list, an evaluation of the pharmacy conditions before the intervention, recommendations for improvement, banners, and extra containers and labels.

RESULTS
More than 200 pharmacies were reorganized and more than 300 pharmacy attendants in Chuquisaca were trained. Pharmacy attendants and members of the community were pleased with the changes applied by the project. Prior to this intervention in Bolivia, 79.3% of pharmacies had expired medications and 54.8% did not have a copy of the EML. Since the intervention, pharmacies are now better able to serve their communities with properly stored and organized medications and medical supplies.
Related Project:
Bolivia Health Management and Quality (Gestion y Calidad en Salud) Project (2005-2011)