Support services and centers help Turkmenistan adults and youth lead healthier, happier lives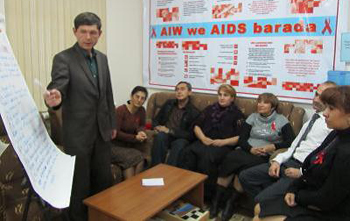 A counselor leads group session at Ashgabat Drop-In Center.

In 2009, The Central Asian Program on AIDS Control and Intervention Targeting Youth and High-Risk Groups (CAPACITY) project opened its first of three drop-in and youth centers in Turkmenistan in response to the growing HIV epidemic within the country and other parts of Central Asia. Today, the drop-in centers, two of which are specifically youth-oriented, continue to provide HIV prevention services, health-education enrichment, and more to at risk youth and adults.

The drop-in centers, managed by JSI Research & Training Institute and funded by USAID and Chevron Nebitgaz, B.V., are part of a new initiative called the Turkmenistan Youth Centers Program. Located in the cities of Ashgabat and Mary, the centers offer psycho-social support, counseling services, HIV-prevention education, and medical referrals to people who may be struggling with drug addiction and/or engaging in high-risk behavior.

The TYC-provided services have had life-changing effects on those who have participated in the program: "My life changed for the better after coming to the Ashbgabat center," says Farid Badashian, a former drug-abuser and current outreach volunteer at the Ashgabat Drop-In Center. Before coming to the Center, Farid struggled with drug addiction and depression so profound that he was considering suicide. After seeing an advertisement for the Center in a local newspaper in June 2009, Farid took a chance that turned his life around. At his first visit, Farid was welcomed by staff and received a preliminary counseling session. He felt comfortable there, so returned regularly during the following weeks and months to participate in TYC activities, all the while growing more self-assured and empowered.

Eventually, Farid became confident enough to volunteer as an outreach worker at the Center. "The center helped me regain control of my life and put me on the right track," he explains. "Now I would like to help others do the same." Farid is now one of ten outreach volunteers working at the Ashgabat Center.

The drop-in and youth centers provide daily services to hundreds of youth and drug abusers in a client-friendly atmosphere. Farid and others like him are now able to cope with the effects of negative social and environmental factors and are engaging in healthier lives. The Government of Turkmenistan, pleased with the centers' efforts to mitigate the impact of AIDS among youth and drug abusers in the country, plans to expand the program to all velayats of the country.


Related Project:
CAPACITY (Central Asian Program on AIDS Control and Intervention Targeting Youth and High-Risk Groups) (2004-2009)