A supportive approach to improving immunization in Nigeria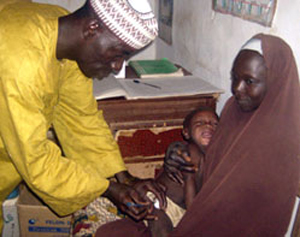 Aliyu Sarkin Aski, a health worker in Bengaje Village, says the quality of the immunization program at his health facility has been improved because of supportive supervision.

In the face of many challenges, a health worker in Bengaje village in northern Nigeria has been able to increase the number of children in his community who are up-to-date with their immunizations. "For me, helping to serve my community by reducing our health problems is the most important thing," says Aliyu Sarkin Aski, 35.

Over the years, Nigeria has struggled to ensure that all of its children are vaccinated regularly. In 2003, only 25% of Nigerian children were immunized and in 2006, only 36%. In some northern states of Nigeria, immunization rates have fallen as low as 10% in past years.

To combat this problem, in 2005 the government of Nigeria adopted the World Health Organization's Reaching Every District approach for improving routine immunization coverage worldwide, which Nigeria adapted to "Reaching Every Ward." A key part of Reaching Every Ward is something called supportive supervision, which is a collaborative method of supervising that encourages employees to share the responsibility for finding solutions to problems such as immunization coverage.

In Aliyu's case, supportive supervision has made a huge difference in terms of understanding how to improve the quality of the immunization program at Bengaje's health facility. "Before supportive supervision, routine immunization services were conducted with negligence and no standards," said Aliyu. "We didn't have a good understanding of how to manage vaccines or the cold chain or even how to track people's immunization records."

USAID's IMMUNIZATIONbasics project has been working in Nigeria since 2007 to support the country's aims to improve its routine immunization program. Specifically, IMMUNIZATIONbasics has helped establish a supportive supervision system in the area where Aliyu works. The project has trained both state and local government area (LGA) health staff how to assess job performance, give constructive feedback, and work cooperatively with health facilities to improve the management and delivery of immunization services with a focus on weaker-performance areas.

In Bengaje, Aliyu's newly-trained supervisor conducted supervision using a checklist of appropriate service standards that IMMUNIZATIONbasics helped both the LGA and health facilities create together, based on national guidelines. The checklist ensures that the health facility and supervisor are paying attention to issues that are specific to the LGA's immunization services. The checklist serves both as a self assessment tool for the health facility and a supervision tool for the LGA. Reflecting on the checklist results provides an important chance for LGAs and health facilities to probe particular gaps in immunization and work together to make sure all eligible children and women of child bearing age get vaccinated. While the process focused on immunization, supportive supervision and all the other components of the "Reaching Every Ward" approach are flexible and can be used to strengthen other primary health care interventions.

"I had heard about supportive supervision before," said Aliyu, "but I thought it was a fault-finding activity. Now I realize that it is about helping me build my skills and I even look forward to the next visit and hope my LGA will continue the process. Having a more experienced supervisor support my work has given me the opportunity to be creative in initiating good health strategies in my community. Now parents and caregivers are asking for routine immunization services and my good relationships with them allows me to track those not completing their immunization. I have gained back my respect."


Related Project:
IMMUNIZATION basics (2004-2009)