Treating HIV-positive mothers brings hope to Zambia's youngest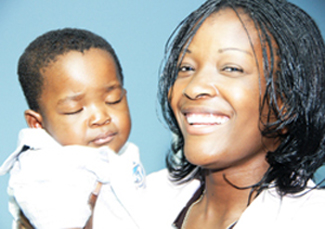 The availability of PMTCT drugs has given Susan's son, Ntanzana, a chance to start life free of HIV.

When Susan Simfukwe was diagnosed with HIV in 2004, her dream of having another child vanished. At 27, she was already a mother of two girls, but she and her husband still hoped to expand their family. With the news of her positive status, Susan felt that having another child was no longer an option.

"It wasn't easy to accept my status," she says. "The experience was very traumatic, and I told myself not to have another child."

In 2008, Zambia had one of the highest rates of pregnant women with HIV in sub-Saharan Africa. About 15 percent of the population is HIV-positive; an estimated 80,000 women with the virus become pregnant every year. For these women, the risk of mother-to-child transmission of HIV is significant. According to the World Health Organization, without treatment, up to 30 percent of babies born to HIV-positive women become infected during pregnancy and delivery, and an additional 5-20 percent may later become infected through breastfeeding.

In 2005, the Zambian Ministry of Health (MOH)—with support from the President's Emergency Plan for AIDS Relief (PEPFAR)—made antiretroviral (ARV) drugs available for free, but getting the drugs to all the health facilities was an ongoing problem. In 2006, JSI's USAID | DELIVER PROJECT helped the MOH improve the logistics system for ARVs, making drugs available to many HIV-positive pregnant women who, previously, were not getting them.

Susan, now 33, lives in the capital city, Lusaka; she is a community outreach coordinator for the Cervical Cancer Prevention Program at the Center for Infectious Disease Research in Zambia. When her husband became ill in 2004, his doctor suggested they both get tested for HIV. Despite not having any symptoms, Susan's results showed that she had advanced HIV disease, and she immediately began antiretroviral therapy (ART). During the next three years, her treatment was increasingly successful, and the HIV virus in her body became virtually undetectable. With a renewed sense of hope, Susan's desire to have another child resurfaced.

With the availability of effective ARVs, strong test results, and excellent health, Susan was an ideal candidate for the prevention of mother-to-child transmission (PMTCT) program. After trying for only two months, she became pregnant. Since she was already on ARVs, Susan's PMTCT treatment was to continue her normal regimen, but testing was more frequent to ensure that her medication was working. Her baby boy, Ntanzana, was born in December 2008; he was immediately started on a seven-day course of ART prophylaxis. After six weeks, Ntanzana's HIV test result showed that he was negative. Susan chose not to breastfeed; and after one year, her baby's results were still negative.

Since 2007, the ARV logistics system has given more than 165,000 women like Susan access to ARV drugs in Zambia. With assistance from the USAID | DELIVER PROJECT, stockouts, especially at small PMTCT-only health facilities, were prevented, ensuring access to ARVs for more women in Zambia in order to prevent mother-to-child transmission. By June 2010, almost 1,000 health facilities that provide PMTCT services had access to these life-saving drugs. Approximately 80 percent of HIV-positive pregnant women in Zambia who need PMTCT drugs are currently in treatment.

With the improved system, health providers throughout the country can better provide the much-needed PMTCT drugs. In addition to guaranteeing product availability, the system provides the resources for the health workers to do their jobs well. "The project's interventions allow us to do a quality job because the tools for doing the job are readily available," says Maggie Mumba, a PMTCT service provider at Kafutuma Rural Health Center.

Introducing ARVs into antenatal and postnatal care significantly improves the chance that babies of HIV-positive mothers can be born without the virus. "I am a happy mother," says Susan. "I think the American government has really helped us Zambians. If it wasn't for them, I don't think we'd have ARVs now. I want to thank the American people as their support has really served us."

Susan's experience has motivated her to help others; she is now an HIV community outreach coordinator at her workplace; she also shares her knowledge of HIV with those in her own life. "My child, he is negative—now I'm an HIV activist," says Susan. I have always told my children about HIV, and I don't want them to go through what I've gone through. I want to be a role model, and promote to others that this is not the end of your life, it's actually the beginning."