Providing combined services for women at the Kajjansi Youth Center, Uganda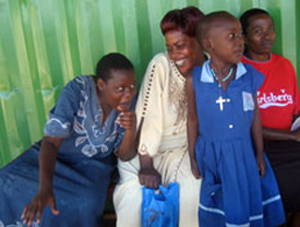 Outside an antenatal clinic at the Kajjansi Teenage and Information Center, three expectant mothers share a light moment.

Three pregnant young women roar with laughter as they sit on a bench at the Kajjansi Youth Center in central Uganda. The subject is one all expectant mothers must confront: the pain in giving birth.

"I really fear it," says Sarah Namakula, 18, and eight months pregnant with her first child.

Next to her, 25-year-old Oliver Namirimu, mother of two, shakes her head at Namakula. "You're worried? I'm more worried than you," she says. "And I know what's coming."

The third one, Goret Nakyejjwe, 24, mother of three, deadpanned: "Me, I'm used to the pain." That made the other two women laugh so hard they had tears in their eyes.

"She's lucky," Namakula gasped.

Watching them with appreciation was midwife Prossy Nassali, 28. She is part of a government program supported by the JSI Uganda Program for Human and Holistic Development (UPHOLD). This program, which is funded by the United States Agency for International Development (USAID), brings together a number of services for young people at one location.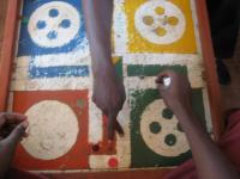 At Kajjansi, many teens come in the afternoons to play games such as this one, called Ludo.




Here, on Kawoto hill overlooking the deep-blue waters of Lake Victoria, the Kajjansi Center combines an antenatal clinic and HIV testing and counseling center for young expectant mothers, with a place to play board games, basketball and volleyball.

"The bottom line is to make the atmosphere friendly to youth," says Richard Ofwono, UPHOLD's regional director in central Uganda.
The antenatal clinic, open for six hours, one day a week, attracts an average of 35 women and girls from the ages of 13 to 25 each week. Nassali, the midwife, says the program has been especially helpful to the youngest girls.

"They are very shy at first," she says. "They are so anxious. They want to discover the most basic things about the baby and giving birth. All want to know about the pain during delivery. I keep on reassuring them that they will be OK. The most important thing with these young ones is that I show them love and talk to them in a loving way. They really respond to that."

The women, she says, are very grateful for her help before birth and during delivery. Many, even the poorest, give her gifts. "Sometimes, it's just a soda—it doesn't matter. You can tell they really appreciate it," she says.

Sarah Namakula, the 18-year-old first-time expectant mother, says her mother had told her a few years ago that if she became pregnant, she should seek medical care before giving birth.

Her concerns were basic: Could she deliver vaginally? Was the fetus progressing well? What did she need to bring to the clinic at delivery?

But Namakula says she didn't know where to turn, until a counselor at the Kajjansi Center approached her in her neighborhood.

"He told me about the program and that it could help me know whether the pregnancy is going well," she says. "I'm glad he found me."

Oliver Namirimu, the mother of two, had another question for midwife Nassali. She felt much larger during this pregnancy compared to the two earlier ones. Was she expecting twins?

The answer was no. "Oh, I'm so happy," Namirimu says. "I want one at a time. That's all I can handle."

Nassali also tests the expectant mothers for HIV infection. If a woman is positive, she administers the drug nevirapine to the mother and child, in order to help prevent mother-to-child transmission of the virus.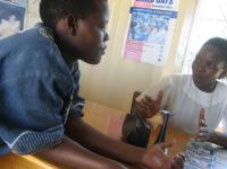 Prossy Nassali, right, a midwife at Kajjansi, gives advice to Sarah Namakula, who was eight months pregnant.

Despite the benefits of the Center, Nassali says she still faces several challenges, most of them related to funding shortfalls. For delivery, women are expected to bring cotton-wool to stop the bleeding afterward; two large plastic bags for post-delivery cleanup; sterile sanitary gloves; thread; and a razor blade.

But she says many don't bring the items because they have enough money. "They are totally poor," she says.

In those cases, she says, she scrambles to find the materials in the clinics. "I usually have a backup supply."
Elsewhere at the Kajjansi center, a dozen children were watching a video of a Uganda play about HIV prevention. And two teen-age boys were deep into a game called Ludo, rolling dice onto a board gaily painted in blue, yellow, red, and green.

"When we are done with school, we come up here," says 17-year-old Ben Acidri. "It's a good place to relax and have fun. And you know, when you keep moving on the streets, you might get into trouble. This is a safe place to stay and make some friends."

Charles Jjuuko, 27, a medical assistant at the Center, says that was the operating principle of the initiative. "This is a place to catch the young people," he says. "We want them to come up here and then we can expose them to many things that can help them later on."

Story and photos by John Donnelly


Related Project:
Uganda Program for Human and Holistic Development (UPHOLD) (2002-2008)