An HIV-positive mother protects her family in Uganda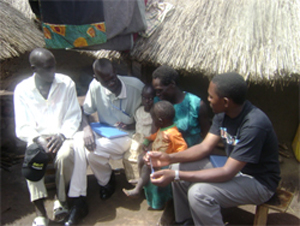 Grace Abalo with her two children sharing her story with Dr. Alex Muhereza, NUMAT District Medical Officer (R), Sub-county Chairman for People Living with AIDS (PHA) group member (L), and Otira Godfrey (second from left) from ROAF, a community-based NUMAT partner in Kitgum district.

When 34-year-old Abalo Grace tested positive for HIV during an antenatal visit in 2006, she was extremely upset. Grace was afraid to tell her husband, yet she couldn't bear her news alone. She sought counsel and advice from a trained network support agent (NSA), who helped her prepare to tell her spouse. NSAs are trained to raise community awareness and support people through HIV testing, diagnosis, treatment, and follow-up care in their communities. "At first he was angry with me," said Grace, "but thanks to many home visits by members of a family support group (FSG), my husband was able to accept my status and eventually, he went for testing and was found to be HIV-positive, too."

The USAID-funded Northern Uganda Malaria AIDS & TB (NUMAT) program supports a health center near Grace's home, where Grace and her husband were tested for HIV and where they receive their care. The health center provides CD4 count tests to monitor the progress of the disease. Information about prevention of mother-to-child-transmission programs is also available at the health center. "I have been able to take CD4 tests at the health center and I have been able to test my one and a half year-old child. Both times, the test was negative," said Grace, the relief visible on her face.

Grace is a member of the Kwo tek Ywaya Family Support Group. She says that participating in the FSG reduces the isolation, stress, and fear associated with HIV and AIDS. Group members also learn strategies for positive living and proper child care as well as learn how to access services that support their health in the long-term.

"When I got pregnant, I was advised by a health worker to attend the family support group at the health center, where I learned why and how to adhere to cotrimoxazole prophylaxis, what antiretroviral therapy is, and which breastfeeding options would not put my children at risk of being infected. I was able to breastfeed only for two months and then had to stop to protect my child from HIV infection through my breast milk. So, I began to use milk from a can for one month and after that, my child has been on cow's milk. You can see he is very healthy and I thanked God when he tested negative!"

"Many times I would feel like breastfeeding again especially when the flasks that I used for keeping my child's milk hot got broken," said Grace. "But I was always encouraged by other FSG members to make sure my child stayed HIV-negative. Now, even if it means doing 'leja leja' (casual work) to get some money to buy cow's milk, I will do it for my child's sake."

Through the FSG, Grace also learned about groups that provide supplementary feeding, and, as a result of baby-mother follow-ups (an FSG home visit strategy), Grace and her husband are linked in to the sub-county network for people living with HIV and AIDS (PHAs). Today, Grace helps other HIV-positive mothers take their children for testing before age two and educates them on breastfeeding options.


Related Project:
Uganda NUMAT (Northern Uganda Malaria AIDS & Tuberculosis) Program (2006-2012)