Transforming medical practices for individuals and communities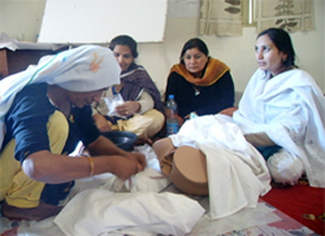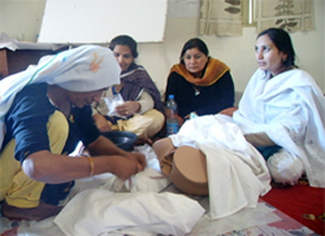 PAIMAN is training traditional birth attendants so they have the knowledge and skills to more safely deliver children in remote villages—and to refer pregnant women to higher-level services when necessary.

On a rural road in Taxila, Pakistan, three NGO workers waited in their car. They were parked at the home of Taxila's traditional birth attendant, a woman named Naseem. Their meeting with Naseem should have begun two hours earlier, but she was nowhere to be found. Their determination to stay was beginning to wane, due to the hot air. Should they take Naseem's absence as a hint that she didn't want to meet with them? The workers did not anticipate an easy visit, but this meeting was imperative to them, as well as to the entire community of Taxila.

As a traditional birth attendant, Naseem provides the only obstetric care in Taxila. She assists pregnant women during birth, and presides over deliveries. While most women in Pakistan deliver using a traditional birth attendant, few TBAs have been formally trained and almost all lack proper medical tools. Naseem's antiquated practices had, at times, resulted in the death of the mother or newborn.

While many families continued to experience the anguish of losing a child, little was being done to deal with the country's high infant mortality rate. In response, the Pakistan Initiative for Mothers and Newborns (PAIMAN) was established to address the country's dearth of obstetric care. Implemented by JSI with funding from the U.S. Agency for International Development (USAID), PAIMAN collaborates with community-based organizations all over the country to renovate and establish clinics, distribute medical supplies, educate the public through various media, and train traditional birth attendants and midwives.

One of PAIMAN's partner organizations, the FRIENDS Foundation, invited Naseem to a training workshop for traditional birth attendants. Hosted by the Tehsil Headquarters Hospital, the workshop would give her comprehensive training in obstetric and prenatal care but the workers from FRIENDS did not expect this to be a simple invitation. Although Naseem was not trained and used no proven modern methods, after 15 years of practice, she would most likely be reluctant to change her approach and learn modern forms of midwifery. Their meeting would be long and difficult, and the road outside Naseem's home was hot, but their failure to enlist her would perpetuate her use of dangerous medical practices.

Once she arrived, Naseem politely excused her lateness, citing her busy schedule, and invited the three FRIENDS Foundation workers into her home. However, as soon as they settled and began to speak about the training, they sensed a tacit reluctance from their host. One worker began to list the benefits of the workshop, including access to new medical technology, training in obstetric instruments, and instruction of new delivery methods, antenatal treatments, and warning signs to watch for in the baby or the mother at any point during the pregnancy. Although Naseem's conviction in her own practices did not waiver, after an hour long discussion they finally convinced her to attend the workshop.

Once the workshop got underway, Naseem's reluctance softened. During the eight-day workshop, she learned a client-centered approach, clean delivery practices, recognition of danger signs, dos and don'ts for TBAs, and the importance of timely referrals for women who need hospital care. By the end of the workshop, her perspective changed entirely. Naseem, along with the 20 other attendants, renounced their previous methods as dangerous for both mothers and newborns. "I will stop practicing all harmful practices while conducting deliveries," she promised while talking to a PAIMAN staff member. "I will only observe and apply skills that have been taught to us in the training."

At the workshop closing ceremony, staff members from the hospital's gynecology department and a group of obstetric specialists tested the trainees with random questions regarding maternal and newborn health practices. Naseem impressed the professionals as she happily fielded questions and demonstrated her level of comprehension.

PAIMAN has trained over 250 traditional birth attendants like Naseem, who now implement more evidence-based, medically-safe care for expectant mothers in their communities. The midwives' promise to change their practices will help make childbirth safer for generations of mothers and newborns in Pakistan.


Related Project:
Pakistan Initiative for Mothers and Newborns (PAIMAN) (2004-2010)