Lowering the maternal mortality rate in Nigeria
CHALLENGE
The maternal mortality rate in the northern states of Nigeria is one of the highest in the world. In Bauchi State, women on average bear up to eight children in their lifetimes, yet only 45% of them receive prenatal care. Unfortunately, the statistics are not any better for children. Less than one percent of Bauchi's children under the age of one are fully immunized. This statistic is particularly worrisome given that this area is one of the last places where the wild poliovirus is still a threat. The average person living in Bauchi experiences two malaria episodes per year—with pregnant women and small children being the most affected.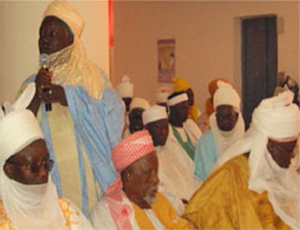 Traditional and religious leaders from Bauchi State in northern Nigeria listen attentively during a two-day meeting with state health directors and civil society groups. The aim of the meeting was to explore how the leaders can work with the state health apparatus to improve health-seeking behavior at the community level.


Overcoming these increasingly difficult maternal and child health challenges requires commitment and partnership at all levels—particularly with traditional and religious leaders, who can use their trust and authority to change health behaviors in their communities.

INITIATIVE
JSI's Targeted States High Impact Project (TSHIP), a five-year maternal, child, reproductive health and family planning initiative funded by USAID, is engaging traditional and religious leaders in the effort to change community behaviors and perceptions about health care. TSHIP collaborated with the Bauchi State Ministry of Health to host a two-day meeting that allowed these leaders, as well as state health directors and civil society leaders, to come together to discuss how they can improve health outcomes in their communities.

The group explored issues such as the current health status of girls and women, Muslim and Christian views of the role of men in family health, birth spacing options, and the importance of children receiving immunizations on schedule.

RESULTS
Traditional and religious leaders are now engaged at the state level in improving community health, which increases their collective level of impact. The leaders have agreed to meet with state health directors on a regular basis, in order to share information and coordinate efforts to address pressing health problems, such as cholera outbreaks, at the earliest possible stage. Another key result of the meeting, the leaders said, is that if they encounter resistance in their communities, they now know how to get in touch with their government counterparts for assistance.

Interestingly, the meeting also illuminated that the concept of safe motherhood is entrenched in the Quran. According to scripture, the shortest period between two babies should be two years and women are advised to breastfeed for two years. This was new information for almost all meeting attendees, and the Muslim religious leaders in the room said that it changed their perceptions about how women should be empowered to make decisions about their health. For example, many women are not allowed to go to a hospital or clinic without their husbands' permission, and this can sometimes endanger their lives if they are experiencing a medical emergency. The Muslim leaders acknowledged that women should be empowered to seek medical services on their own if needed.

Change will likely not be quick or easy, but because traditional and religious leaders have longstanding relationships with communities based on trust, they are in a strong position to help overcome the cultural barriers preventing health-seeking behavior.
Related Project:
Nigeria Targeted States High Impact Project (TSHIP) (2009-2015)