Creating accountability and reaching communities wiht health informatics in Ethiopia
"Before the USAID-funded program, community-based activities were not well designed nor well structured. They did not succeed," says Dr. Shiferaw Teklemariam, the Director of the Regional Health Bureau in the Southern Nations, Nationalities and Peoples' Regional State of Ethiopia.

Dr. Shiferaw has been a leader in promoting innovative approaches to improving health in his region of Ethiopia—which covers 14.5 million people—larger than many African countries.

The Community Health Promoter Initiative was launched by the ESHE Project, managed by John Snow, Inc., in Ethiopia in 2002 to encourage community members to be involved participants in their own families' health. "The Community Health Promoter Initiative takes a package of services down to the community level," says Dr. Shiferaw.

Through the initiative, community and religious leaders and other members of the community meet with district health officers, who begin by asking what the health concerns in the village are. Once the group identifies its own health issues, members discuss which are the community's responsibility, and which the health office should be responsible for. This helps to clarify the relationship between the health office and the community in health promotion activities. Community members then work to select community health promoters—members of the village who will be trained to promote the benefits of key health interventions.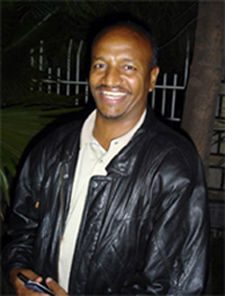 "The effects of [ESHE's] community health promoter training in my region have been dramatic," says Dr. Shiferaw Tekelmariam, Director of the SNNP Regional Health Bureau.

Once selected, the health promoters are trained in the importance of vaccinations, sanitation—including the building of latrines and hand-washing—and nutrition. Community health promoters not only learn about the issues; they are encouraged to begin with their own families. They build latrines for themselves, give their children the full series of immunizations, and become role models for their community.

"The effects of community health promoter training in my region have been dramatic. Three years ago, only 16% of households in the region had latrines in their back yard. Sanitation was awful and the rates of diarrhea and other related diseases were very high. Today almost 80% of households have their own latrine and people are washing their hands regularly. Families are actually changing their behaviors to improve their own lives," Dr. Shiferaw says. "It is a dramatic change—and one that costs very little. We pay for the short two-day training. But, it's people's behaviors that are changing!"

"A key aspect that has been very important is that all zones and woredas (districts) must sign a performance agreement, which helps create personal accountability and political will. This has proven very successful for us. Now that the program is taking off, I'm also creating a little competition with some incentives—the zones and woredas that improve the most are awarded motorbikes and other incentives," Dr. Shiferaw continues.

"Another benefit I have witnessed through this program is that health literacy in the region has increased. Not only do we have the community health promoters in each community learning and informing others, but local health posts are also being built with direct USAID and other partners' support—over 2000 this year alone. My goal is that each community will have its own health post. USAID and JSI, through ESHE and DELIVER project, which is assisting with drug logistics systems—is helping us achieve this goal."

In summary, Dr. Shiferaw says, "We have benefited tremendously from USAID and JSI. USAID has funded both short and long-term overseas training that has been extremely useful to me and my staff in terms of capacity building for managing and leading health programs in the region. Support for Ethiopia's human resource development has not only been very useful, it is a sustainable intervention that has helped our country significantly. USAID has been an active partner, technically and financially. We would not see these sorts of improvements without them."





Related Project:
Ethiopia Essential Services for Health (ESHE) Project (2005-2008)