JSI serves Indonesian earthquake survivors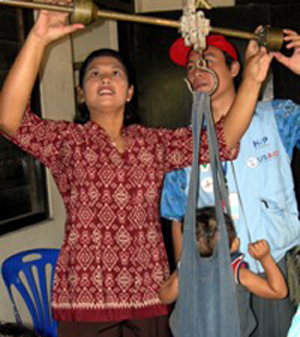 Members of a mobile health services team, supported by the USAID Health Services Program, weigh a young child in Klaten, Central Java. Photo taken by Rudy Pinem




In the aftermath of the May 2006 earthquake in Indonesia, JSI Research & Training Institute, Inc., worked to care for the long-term health needs of the earthquake survivors. JSI's Health Services Program (HSP), funded by the US Agency for International Development (USAID), supported a 45-member medical team to provide mobile health services to one of the most-stricken areas of Klaten, Central Java.

More than 20 volunteers from the Pediatricians' Association (IDAI), the Midwives' Association (IBI), the Nurses' Association (PPNI) and the Public Health Association (IAKMI) worked alongside government health center staff to provide services to 14 villages, reaching a population of 58,000. The focus was on immunizing against measles and tetanus, and providing care for common illnesses in the post-emergency environment, such as respiratory and skin infections and gastro-intestinal illness.

From June 7 to 23, the HSP team immunized over 10,000 people against tetanus, provided 1,635 measles immunization and Vitamin A to children, and gave health consultations to more than 1,000 other patients.

Staff from the HSP also assisted local medical associations to coordinate 60 volunteer doctors to provide initial emergency treatment, stabilize and refer quake victims to Sardjito and Solo hospitals over the three days immediately following the earthquake. HSP also helped prioritize needs for medical supplies to ensure that agencies such as the Indonesian Red Cross and UNICEF could target their supplies effectively.

The Health Services Project is a five-year initiative designed to strengthen maternal, newborn and child health interventions at the district level, and work with health facilities, NGOs and community organizations as well as the private commercial sector. JSI has partnered with the University of Indonesia - Center for Family Welfare (PUSKA-UI), Abt Associates, Inc., The Manoff Group, Inc., and Mercy Corps to implement the program. In addition to assisting recent earthquake victims, the project has also been assisting with rebuilding the health infrastructure in tsunami-battered Aceh province.


Related Project:
Indonesia Health Services Program (HSP) (2005-2010)