Building the capacity of communities to address mental health in Indonesia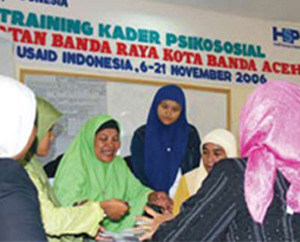 A community mental health volunteer training implemented by JSI and PULIH is helping women learn how to address on-going mental health issues in their communities.

Aceh. Who doesn't remember the graphic images of destruction caused by the December 2004 earthquake and tsunami? The human toll of one of the largest-ever natural disasters left 126,000 dead in Indonesia, and another 500,000 displaced. Roughly 80 percent of the casualties were women and children.

After the tsunami, concerns about the mental health of the Acehnese people ran high. The main psychiatric hospital in Aceh had traditionally been overcrowded, and for many the conditions of this type of institutionalized care were not conducive to psychological recovery. Instead families often turned to traditional healers and religious leaders for support, and in severe cases the mentally ill were restrained near the family home with chains or shackles. International aid organizations knew they had to do more than restore the previous system, and hoped to develop community networks to address mental health, with nurses at the forefront of care.



A Strong Partnership of Key Stakeholders Provided Leadership for the Continuum of Care Model, including:


Aceh Besar District Health Office
Aceh Provincial Health Office
Aceh Psychiatric Hospital
AmeriCares
Asian Development Bank
Mental Health Directorate, Ministry of Health



JSI's Health Services Project lent intensive support in the district of Aceh Besar, where an external evaluation of the program in July 2007 identified that HSP's assistance had established three new levels of mental health and psychosocial care and support.

At the sub-district level, nurses attended a rigorous and highly structured mental health training program, and then received focused supervision from senior mental health nurses. There are now two trained mental health nurses per 30,000 Aceh residents.

In the villages, the program developed a community-based approach to empowering women to respond to the psychosocial needs of their peers, with a focus on women and children. Psychosocial volunteers received technical support from a national NGO, PULIH, as well as ongoing assistance from local Acehnese NGOs. These volunteers learned about the mental health issues that plagued their communities, had group discussions reflecting on village realities, and conducted field work with the support of mental health professionals. Volunteers also developed systems to document and evaluate the results of their activities. "This is my first experience with learning about mental health," said Rahmi, a volunteer from Lamara village. "I am looking forward to helping the community, as there are many women and children who need extra support."

At the district level, HSP built and equipped a 10-bed acute care psychiatric unit on the campus of the Jantho District Hospital. The facility has state-of-the-art standards for inpatient care facilities, with interactive workstations, tranquil spaces for patients, and safe, secure and (as needed) contained rooms to manage responses to care crises.

The program achieved significant results. In a survey of community health nursing patients and their caretakers, 90 percent reported improvements. Said one mother, "I couldn't leave my son alone before due to his mental illness. With support from the nurse and medication, I can now leave him alone for as long as a week. I am so grateful to the program."





Related Project:
Indonesia Health Services Program (HSP) (2005-2010)