Managing health information effectively in Ethiopia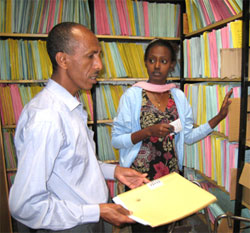 Ato Girma (left) says that continued supportive supervision is required if a quality data collection system is to be maintained.




"Before the introduction of our new health information system, there were various health data gathering forms: one developed by the Federal Ministry of Health and regional health bureaus and others introduced by partners. All the forms served the same purpose but left health care providers having to duplicate efforts," says Ato Girma, the Health Management Information System (HMIS) team leader at the Oromia Health Bureau. "The forms lacked uniformity and were modified by every health care provider at their convenience. Furthermore, few health managers used the information collected."

An effective and standardized HMIS can help improve health service delivery through proper data collection and interpretation for informed decisionmaking right in the health facility. "The introduction of the new HMIS forms was initially received unfavorably by health care providers who mistakenly anticipated more paperwork," Ato explains. "In truth, the forms lighten the burden through the use of a uniform system that gives everyone access to the same data."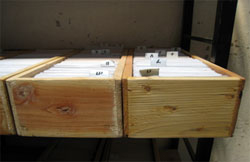 The Adama Hospital's card room is more organized after the introduction of master index cards and integrated folders.

The Federal Ministry of Health, in collaboration with John Snow, Inc. and Tulane University, organized a pilot test for the newly restructured HMIS. Health care providers were trained in all aspects of the new HMIS, including: registers with instructions for all health facility service wards; patient admission and discharge cards; service identification, appointment, and master patient index cards; integrated folders; and reporting forms that were printed and distributed to all pilot testing facilities. The printed materials were distributed to health posts, health centers, hospitals, districts, zones, and regions as main implementers.

The use of integrated folders is one of the innovations in reducing the accumulation of numerous records for the same patient. Previously, a patient typically received a new card for each visit to a health facility. Because of this, providers would never know the patient's history since they used a new card for each encounter. This fragmented recordkeeping led providers to make errors during diagnosis and treatment.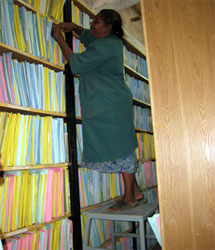 A Health Worker Locates Documents within newly organized shelving

The new integrated folder maintains a patient's entire treatment history. It helps minimize mistakes and allows for better continuity of care. In locations where the revised HMIS has been established, the new patient is issued a service identification card that corresponds with his/her integrated folder reference number and the master patient index with the patient's name and vital information.

At the Adama Hospital in the Oromia region, the card room has two windows. One is for issuing an integrated folder to each new patient. The other serves as a fast tracking spot for revisits and chronic patients. Here, their integrated folder is retrieved and sent to the patient's health care provider. Asegedech, a card room worker, says that the alphabetized master patient index makes locating re-visiting patients' folders easy.

Training health workers throughout the country on the revised HMIS will ensure that patient information is used as appropriately and efficiently as possible at all service delivery points. Trainers stress the need for providers to know how to use the forms, and are convincing them that HMIS can generate useful information for planning and managing health services. "The trainings are creating a sense of ownership by involving health care providers in the hierarchy," says Ato Girma. This process requires significant work, and scaling up to the national level within a short period of time is a big concern for Ato Girma as he considers the enormous volume of human, material, and logistical resources required.

"Continued supportive supervision will be required if quality data collection is to be maintained," stresses Ato Girma. "Managers and health care providers must follow instructions on the forms to create and utilize authentic data. If one provider misses one of the required instructions, the whole reporting will be compromised, jeopardizing appropriate information generation and decisionmaking." Despite these challenges, careful planning for country-wide operation is crucial, and is resulting in a more successful health care system.




The revised national HMIS system was developed by the Federal Ministry of Health assisted by John Snow, Inc. under contract by the United Nations Development Programme (UNDP) with additional funding from the United States Agency for International Development (USAID). For additional information contact Dr. Nejimudin Kedir at the Planning and Programming Department at the Federal Ministry of Health, or Dr. Theo Lippeveld (Theo_ Lippeveld@ jsi.com)




Related Projects: USAID | DELIVER PROJECT: Task Order 1 (2006-2012), Ethiopia Health Management Information System Strengthening Project (2006-2012)