Improving infant and maternal care in the West Bank
When midwife Ahlam el-Hweehi started working three years ago at the Beit-Hanoon clinic in the northern Gaza Strip, she admits that she didn't have the most up-to-date health and nutritional information available to help young mothers and their babies. "When I arrived, I didn't know mothers should feed babies with their natural milk until six months after the child's birth."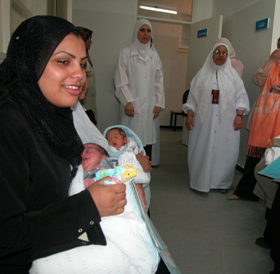 Mothers and midwives benefit from Hanan-supported training about nutrition and well-baby practices at the Beit-Hanoon Clinic

The facility also had its challenges. It was difficult for women to take advantage of services to check and monitor their children's health after birth because those services were in a different location. Typically, mothers received postnatal care from a midwife in one place then had to visit another building for the baby's exams. Then they returned to the first location for their babies to be vaccinated. "This back-and-forth process is uncomfortable for mothers and infants, especially during the winter when they have to go out in the cold," says Ahlam.

Although access to health care in the West Bank and Gaza has improved overall in recent years, limited health-seeking behavior, lack of social security, and continually worsening economic conditions remain barriers to better health for Palestinian women and children. Almost two-thirds of women in the West Bank and Gaza receive no postnatal care at all.

These conditions, and the ones existing in clinics like Beit-Hanoon, are improving with help from the USAID-funded Mother, Child Health & Nutrition (MCHN) project, called Hanan. Beit-Hanoon is just one of the 118 clinics supported by Hanan. The three-year initiative aims to improve the health of vulnerable Palestinian women of reproductive age and children under the age of five. Hanan provides training to doctors, nurses, and midwives on high-quality maternal and child health services, while promoting positive household and community MCHN-related behaviors. JSI Research & Training Institute, Inc. manages the project in partnership with American Near East Refugee Aid (ANERA), and Emerging Markets Group.

Learning about antenatal care, nutrition, and mother and child care through Hanan training courses has enabled Ahlam and her colleague Haleema to recognize the importance of providing care for women and children in one place. "In the modified clinic program, mothers and babies receive treatment in one room while the doctor comes to them," Haleema says. "Mothers who need postnatal care avoid risking their children's health in the cold."

In addition to learning about the importance of providing care in one place, the midwives at Beit-Hanoon are encouraging mothers and extended families to learn more about MCHN, especially those who are unfamiliar with antenatal and postnatal care. "We discovered that the mothers-in-law of young women also benefit from effective postnatal counseling sessions," says Ahlam. "Once they understand the benefits, they encourage their daughters to visit the clinic. This way, we reach more women."

Ahlam thinks that she has become a better, more informed midwife. "Now when women come to me for counseling, I am glad I can pass along information I gathered during training. We're thankful for the training that Hanan provided," she says. "We enjoy listening to the cries of newborn babies, especially because now they are healthy cries. They are cries of life."






Related Project:
West Bank & Gaza Hanan Maternal and Child Health and Nutrition (MCHN) (2005-2008)