Counseling couples on family planning and methods of contraceptives in Russia
"To prevent an unwanted pregnancy, my wife and I used withdrawal as a method of contraception," states Sergei Pavlov, a 25 year old father of one child. "Neither of us liked this method and we found it to be ineffective. My wife even had to have an abortion when it failed," he explained. Sergei and his wife had been married for five years and wanted to postpone having more children until they were financially stable.

Unwanted pregnancies resulting in abortions are extremely prevalent across Russia. Sergei and his wife, like many Russian couples, turned to abortion as a means of family planning because they were not familiar with modern methods of contraception. Family planning counseling is simply not included in the provision of medical or maternity services. To increase the use of family planning methods among Russian women and their husbands, John Snow, Inc. (JSI) is implementing the USAID-funded Maternal and Child Health Initiative (MCHI), a project that is improving the quality of medical care in maternity clinics and hospitals in fourteen oblasts across the country. One aspect of high-quality care is the availability of a range of modern family planning methods.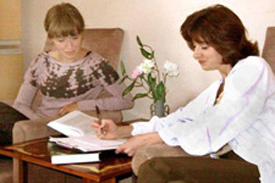 Health providers are being trained in how to more effectively counsel clients in family planning, and thus reduce the number of abortions.




An MCHI survey of medical providers conducted in spring 2004 found that many health practitioners did not provide accurate information about various contraceptive methods to their clients. This helps explain why approximately 42% of women arrived at clinics for abortions telling their doctors that they had become pregnant despite proper use of contraceptives-or so they thought. Responding to the problem of insufficient knowledge, MCHI conducted several training courses for medical providers in children's polyclinics, maternity hospitals, and women's clinics. These training courses have highlighted modern methods of family planning, contraception and counseling. MCHI materials have been publicized in the media and disseminated in hospitals and medical colleges and universities.

MCHI activities have already begun to reach the broader population. Valeria, a new mother, explains that after her daughter was born, she visited one of the women's clinics and took parenting classes. One of the classes was devoted to breastfeeding and there she learned that not only is breastfeeding good for both the baby and mother's health, it also prevents unwanted pregnancy for the first six months. "But I was worried about the effectiveness of this method of contraception," Valeria stated. "My friend breast fed her baby and she still got pregnant and ended up having an abortion when the baby was 3 months old. I didn't want to repeat her bad experience."

Valeria shared her concerns about the effectiveness of breastfeeding as a method of contraception with her doctor. Valeria's doctor, a graduate of the MCHI training course, explained her postpartum contraception options in detail. Valeria chose progestin-only oral pills because they are effective and not harmful. She was very pleased with her choice, explaining, "I feel good and confident, and my husband also likes this method. When I finish breastfeeding I think I will continue to use the pill."

Health department officials believe that by offering counseling to women and men about family planning every time they visit the doctor, use of modern methods of contraception will increase. Every time a patient like Valeria is satisfied with her increased contraceptive options and chooses to use a method, one fewer person will have to turn to abortions for family planning. If the number of abortions among Russian women decreases, the overall level of reproductive health of Russian families will increase.
Sergei Pavlov and his wife learned about MCHI's activities through a radio advertisement. After attending a class about family planning counseling for couples, they met individually with a doctor to learn about modern methods of contraception. "Now we've chosen an IUD as our method of contraception," says Sergei. "I am hopeful that my wife will never have to undergo an abortion again. Thank you for the counseling."






Related Project:
Russia Maternal and Child Health Initiative (2003-2007)