Can contraceptives replace abortion in Romania?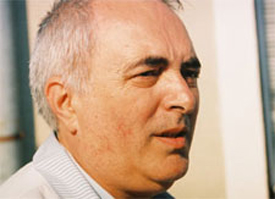 Since he attended an RFHI training in family planning, Dr. Andor has been helping clients find a choice and rely less on abortion for contraception.




Dr. Andor is an even-tempered and unassuming man. He doesn't judge. He doesn't impose his views on others. He knows that family planning (FP) services in his community prevent abortions, but he never insists that his clients use a contraceptive method. He respects his patients' choices, and, moreover, he has no lack of patients seeking FP methods.

Dr. Andor remembers when the first family planning client came to him in 2003 from a Roma community called Dumbrava. She came seeking an injectable contraceptive after learning about the method from a brochure. Soon, other women in her community poured into his office; all requesting help with planning their families. His first non-Roma client soon followed. A mother came with her 16-year-old daughter to ask for help in steering the girl away from the traumatic path of abortion. Many mothers now come to his clinic with their daughters hoping to protect them.

Many older women in the communities around Dr. Andor's clinic have had numerous abortions. In some cases, 20 or more in a lifetime. Dr. Andor says that the mothers who bring daughters to his clinic are a concrete example of two generations experiencing the change in choice: one more fortunate than the other. The younger generation is using contraceptives to space births and plan families, while the older generation remembers a time when abortion was the only option for planning a family.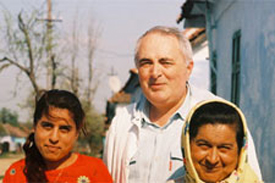 Roma women of two generations in the community thank Dr. Andor for his kindness and assistance.

When asked if contraceptive availability reduces the number of abortions, Dr. Andor says, "of course they do! Just ask the gynecologists!"

The gynecologists in his area have noticed a large drop off in clients since they are usually the ones performing abortions. "They are angry," in some cases, he says, because his family planning services have hurt their business. But at the same time, Dr. Andor has increased the client rosters for some gynecologists because he visits remote—physically and culturally—villages of Roma people and refers pregnant women with complications to local gynecologists. Prior to Dr. Andor's presence in the area, many of these Roma communities were cut off from prenatal care. And although Dr. Andor has worked for 20 years in these communities, it was not until 2003, when he received family planning training through the USAID-funded Romanian Family Health Initiative, that he was able to turn the culture of abortion-seeking women on its head. JSI Research & Training Institute, Inc., with partner organization Society for Education on Contraception and Sexuality (SECS), has trained 5,264 family doctors and 3,589 nurses in basic family planning since the project began in 2002. The 5-day basic training enables health professionals to provide family planning services; it offers them all necessary knowledge and skills for counseling their clients, initiating and monitoring contraceptive use, and managing contraceptive supplies.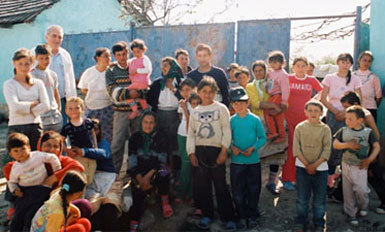 Dr. Andor poses with residents from Dumbrava, a Roma village.

Dr. Andor can now stand in front of a crowd of his peers, as he often does, and speak about the dramatic decline in abortions in his town and its surrounding villages—a decline which began in 2003 when he started to offer family planning services. For the more than 1,000 women who live within Dr. Andor's community, abortion is a necessity of the past. In its stead are women coming to a small clinic in a humble village, whispering in the waiting room about the doctor who can help them take control of their futures.