Breast Cancer walk to save lives in Georgia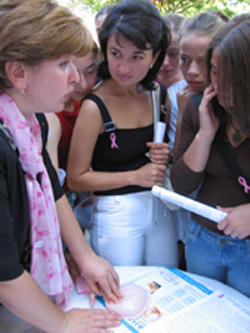 Tamar Moseshvili, health advocate for the Women's Wellness Care Alliance HERA, educates attendees at the "Walk to Save Lives" about how to perform breast exams.

Recalling her mother's and aunts' struggles with breast cancer, she went to a doctor for an exam and advice. Lacking diagnostic equipment for further evaluation, the doctor referred her for surgery in the nation's capital. The lump was removed, and it was not cancer. Tamar could finally breathe again. Aware of her family history of breast cancer, Tamar knew the importance of early detection. But she knows that this is not the norm in her country: most women in Georgia do not have the information they need to protect themselves from breast cancer; nor do they know that they may be able to save their own lives.

Breast cancer is a devastating disease anywhere, but it is especially lethal in Georgia. Each year, nearly 3,000 women are diagnosed with the disease. In fact, breast cancer accounts for 38% of women's cancers in Georgia. Georgian women and girls have had little or no information about the importance of early detection to increase their chances of survival. Consequently, it is usually identified and diagnosed at an advanced stage when it is too late to treat. This perpetuates a public perception that breast cancer is always terminal, a dreaded disease without hope of treatment or survival.

Today, Tamar serves as a volunteer women's health advocate and is committed to educating the public about breast health. She aims to empower Georgian women by teaching them about self-examination and other methods of early detection such as mammography, so that they may increase their chances of survival. Tamar was able to do just that at Georgia's first breast cancer awareness event, the Walk to Save Lives.

On September 24th, the USAID-funded, JSI-led Healthy Women in Georgia (HWG) Project sponsored a Walk to Save Lives, where 1000 participants marched together for breast health through the center of Kutaisi, a city of approximately 250,000 people. A local women's health organization linked students, families, local NGOs and other community members to raise public awareness about this historically silent disease. Dozens of volunteers turned out to register participants and distribute brochures about breast health. Women's health advocates used models and diagrams to demonstrate how to perform breast self-examinations. Participants also received information about where they can go for physicals with women's health specialists. At the walk's end, local officials announced the arrival of modern mammography equipment that had recently been donated to Kutaisi's Women's Wellness Center, and women in the region were invited to visit the center for free mammograms.

Educating participants about breast self-exams gave Tamar hope for the women in her community. "This is information that all women need; I wish my mother and aunts had been able to receive it," she said. "Now that they know what to do and where to go for help, I think it will make a big difference in a lot of lives."
Related Project:
Healthy Women in Georgia (2012)