Integrating injection safety into the national nursing school curriculum in Cote d'Ivoire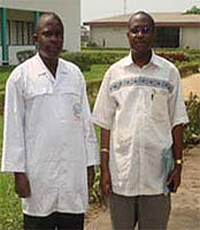 Mr. A.K.A. Koutouan, Director of Abidjan Nursing for Pre-service, and a member of the trainer team.

Reaching Côte d'Ivoire's future nurses with injection safety training before they enter the country's health care system is a critical step to prevent the spread of HIV and other bloodborne diseases, including hepatitis B and C, through careless or incorrect medical injection practices.

JSI's Making Medical Injections Safer (MMIS) project has helped to integrate an injection safety curriculum into the country's nursing schools. Because there is a military and social crisis in Côte d'Ivoire, two nursing schools located in the rebel-held northern region of the country have been closed, and the students have been transferred to Abidjan, the economic capital. The upside of this consolidation is that the MMIS project will reach approximately 400 nursing and midwifery students and approximately 100 other health care specialty students, including lab and pharmacy technicians, and hygienists, each year. The injection safety training has also covered about 150 students at another nursing school in Abidjan where nursing managers and other specialists, such as anesthetists and ophthalmic technicians, are trained.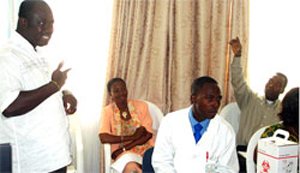 Dr. David Hamien, (DSC/MOH) a member of the team of facilitators, responds to questions at the teacher training workshop. Photo: JSI/MMIS-Côte d'Ivoire.



Funded by PEPFAR through USAID and the Centers for Disease Control and Prevention, the MMIS project works with in-country partners in eleven high-HIV prevalence countries, addressing unnecessary and unsafe injections that are common in the developing world. When unsterilized needles are reused, mishandled or inadequately disposed, they contaminate the community and expose the public to deadly bloodborne diseases. MMIS programs in Côte d'Ivoire, Ethiopia, Uganda, Botswana, Nigeria, Rwanda, South Africa, Tanzania, Kenya, Mozambique and Haiti work with existing institutions to increase the availability of safe injection equipment, encourage the safe and appropriate administration of necessary injections and the proper disposal of waste materials resulting from them.


The curriculum content for Côte d'Ivoire was developed over the course of three months, in collaboration with MMIS and a team of nursing school trainers who participated in the adaptation and review process. This curriculum will be distributed to all nursing school instructors at a national workshop this spring. Thereafter injection safety, waste management, and infection prevention and control will be officially incorporated into all national nursing school trainings. For more information on injection safety activities in Côte d'Ivoire and MMIS, please visit











Related Project:
Making Medical Injections Safer (MMIS) (2004-2010)