DELIVERing bednets in Ghana to stop malaria in its tracks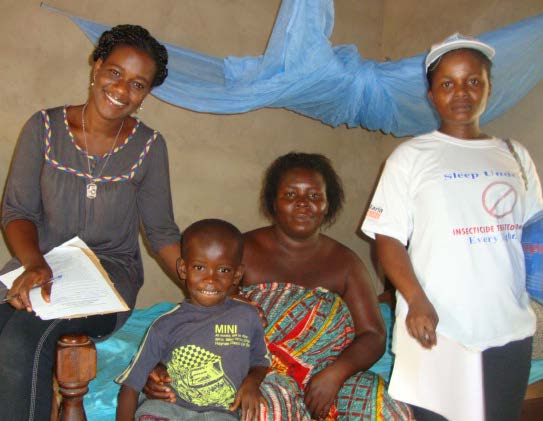 Pearl Pinto, national supervisor for Ghana's mass distribution of long-lasting insecticide-treated bed nets, visits a family in the Kwahu West district of the Eastern region after they received bed nets for their household.

In Ghana, with a population of 25 million, malaria is the number one cause of morbidity and mortality. The disease accounts for 35 percent of all hospital admissions and 18 percent of all deaths in hospitals—and it kills about 1,500 children under the age of five each year.

To reduce the malaria disease burden and related deaths, the National Malaria Control Program and its partners, including the President's Malaria Initiative-funded USAID | DELIVER PROJECT, conducted a nationwide door-to-door distribution of long-lasting insecticide-treated bed nets (LLINs).

During the mass distribution campaign, which took place from October 2010 to June 2012, each household in need received enough bed nets (one for every two persons) to protect family members from mosquito bites while sleeping, and potentially break the malaria infection transmission chain.

Over 3,500 trained volunteers helped to hang the bed nets and educate recipients on how to properly use and care for the nets. During the campaign, approximately 13.5 million LLINs were distributed to households—a significant increase in bed net ownership, which is expected to spur a decrease in malaria mortality in Ghana.

The USAID | DELIVER PROJECT provided procurement support and logistical management for the mass distribution, making sure the right quantities of LLINs and other supplies were available during the campaign.

Related Project:
USAID | DELIVER PROJECT: Malaria (2011-2017)