Partnering for sustainability in family planning efforts in Ukraine
Family planning, a comparatively new concept in Ukraine, is not integrated into the life of Ukrainians and has been stigmatized by rumors, myths, and other misinformation. For example, many Ukrainian women believe contraceptive pills and IUDs are not safe. In fact, only 3.7% of Ukrainian women of reproductive age use contraceptive pills and 12.1% use IUDs. Surprisingly, health providers, particularly gynecologists, are often the conduits of this misinformation because their knowledge is often out-of-date and inconsistent with evidence-based international norms.

USAID is supporting the Healthy Women of Ukraine Program to promote the benefits of family planning and reproductive health to the public. The program does this by organizing large-scale educational activities aimed at the public, educating health providers to give up-to-date information and services to their clients, improving the policy environment, and building the capacity of local NGOs already working on the issue.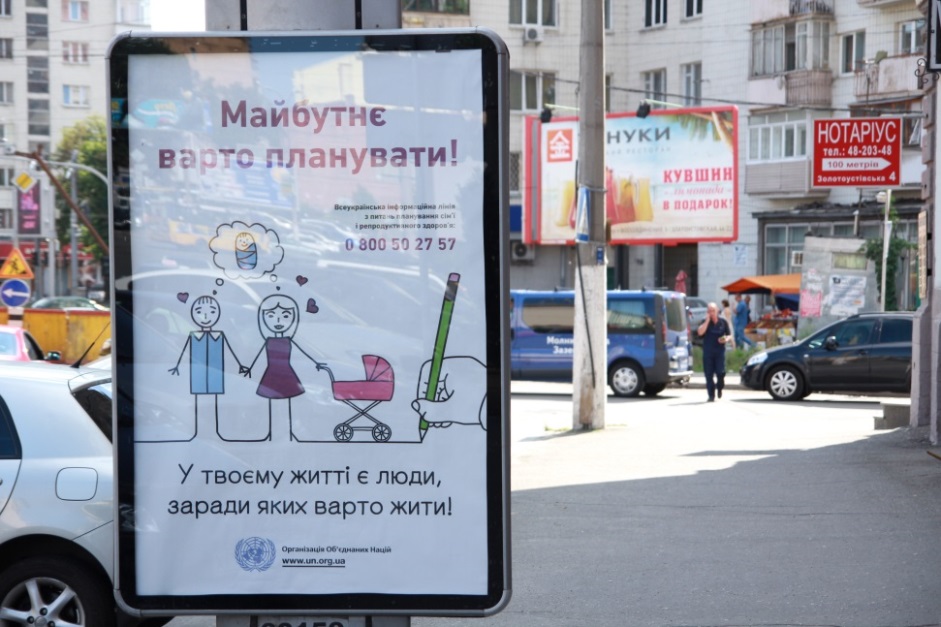 UNFPA billboard with family planning and reproductive health message in the center of Kyiv Photo: Mykola Yabchenko





The Healthy Women of Ukraine Program developed and is implementing a national communication strategy aimed at educating the Ukrainian public about the benefits – and safety – of modern family planning methods. The strategy uses a mix of media (including a website and a national hotline) and interpersonal communication to urge people of reproductive age to seek family planning services from trained service providers.

However, achieving national-level impact in a country of 45 million is challenging. The Healthy Women of Ukraine Program quickly realized it would need to form partnerships in order to leverage campaign resources, broaden influence, and promote the sustainability of the campaign's messages.

The program approached the United Nations Population Fund (UNFPA) with an offer to join forces in implementing key aspects of program's work, including the national family planning communication campaign. UNFPA was keen to cooperate and USAID and UNFPA signed a memorandum of understanding to formalize the collaboration with the Healthy Women of Ukraine Program.

Under the framework of the national family planning communication strategy, Healthy Women and UNFPA developed and co-funded a website (www.planA.org.ua) and national hotline. Both are resources that the public may use to obtain the most the most recent evidence-based information on family planning and reproductive health. A key message of both the website and hotline urges users to seek family planning services from their local trained health providers.

UNFPA recently organized its own mass media campaign on city billboards and used the opportunity to include the same family planning and reproductive health messages (including the national hotline number) as the USAID-funded Healthy Women national family planning campaign. UNFPA even went so far as to incorporate the same logo and tagline: "The future is worth planning."

USAID's Healthy Women in Ukraine Program and UNFPA also combined their resources to conduct family planning and reproductive health training for Ukrainian journalists. The training was lead by prominent demographers and national family planning experts. By the end, all participanting journalists, including those writing for religious publications, agreed that raising the public's knowledge about family planning is important for improving the health of society and must not be considered "a taboo topic."

USAID and UNFPA have also organized advocacy workshops to promote the creation of family planning and reproductive health partnerships at the regional level. Already, local governments are demonstrating their interest in joining efforts. Vladislav Svyrydiuk, first deputy minister of health of AR Crimea, voiced his support at one such workshop, "We should increase funding from local budgets by focusing more on public activities…this work is difficult and tough, but is necessary and can't be implemented by various agencies separately. We should work together by building a joint partnership to foster responsible public attitudes toward reproductive health and to help make informed family planning choices."

The success of the HWUP and UNFPA collaboration are clear, tangible, and increasingly sustainable. The national communication campaign is reaching more people in Ukraine than it otherwise would have and local governments are deepening their collaboration with international organizations in the area of reproductive health and family planning, which in turn has raised the visibility of these issues at the regional level.


Related Project:
Ukraine - Healthy Women of Ukraine Program (2011-2016)