Supply chain lessons improve pharmaceutical skills in Ethiopia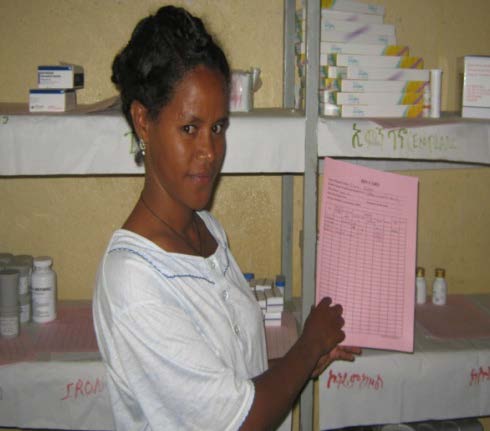 Letebirhan Teklay is a Health Extension Worker (HEW) at the Endabagerima Health Post in Adwa, Ethiopia. Prior to being trained on the basic integrated pharmaceutical logistics system (IPLS) lessons through group training at a Primary Health Care Unit (PHCU) meeting, she had never used a bin card or a Health Post Monthly Report and Resupply (HPMRR) form to report her consumption of medicines dispensed to clients.

Ethiopia, under the leadership of the Pharmaceutical Fund and Supplies Agency (PSFA), is rolling out a streamlined supply chain (SC) system called IPLS – the integrated pharmaceutical logistics system, which ultimately will result in the use of consumption data for fulfilling orders, and in all health posts (HPs) receiving their supplies from their health center (HC). Critical to implementing IPLS is ensuring that health workers at all levels have sufficient knowledge and skills to operationalize key SC procedures and practices.

IPLS lessons for HEWs are short, self-contained lessons that can be used individually or in combination and do not require that the participant has completed prerequisites. As such, these lessons can be incorporated into regular meetings and activities like the PHCU monthly meeting Letebirhan attended.

Now that Letebirhan has been trained on the basic IPLS lessons, she is happy and confident in her knowledge and skills to manage pharmaceuticals. Her health post is equipped with all IPLS ready lesson implementation flipbooks and tools like bin cards and HPMRR forms and she is using her new skills every day.

Related Project:
Improving Supply Chains for Community Case Management of Pneumonia and Other Common Diseases of Childhood (SC4CCM) (2009-2015)