Where We Work
A paradigm shift in HIV testing; New England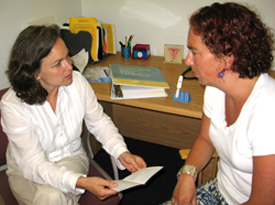 JSI trained reproductive health care providers to help them adopt the new rapid HIV test that offers patients results in 20 minutes.

In 2006, the CDC HIV Testing Recommendations stressed the importance of offering HIV testing as part of routine medical care. Over the past year, JSI has provided training and technical assistance to reproductive health care providers in New England in order to help them adopt a new routine testing model consistent with CDC recommendations. The model uses a rapid HIV test that offers patients results in 20 minutes, allowing them to know their HIV status before they leave their appointment. The goal of the rapid test is to increase early diagnosis of HIV infection and to decrease barriers to prevention and testing.

Routine HIV testing aims to increase the number of patients who agree to be tested and consequently, who know their HIV status. Patients who test positive know their status right away and can begin to take steps to keep themselves healthy and to prevent transmission of the disease to others. Offering the rapid test in a routine, clinical environment also helps reduce the stigma previously associated with HIV testing. Previously, the long list of questions about risk behaviors might have deterred a potential patient from answering honestly or from getting tested altogether, for fear of backlash. "For a long time, we focused on high-risk individuals, but now we are trying to get providers into the new mindset that we really need to look routinely at all individuals, age 13-64, who are sexually active," said Philip Kane, HIV Program Manager, Thundermist Health Centers, Rhode Island.

The fear of giving patients a positive result was initially a barrier to implementing the routine testing model into clinical practice. Clinicians often felt uncomfortable delivering a positive test result, and many did not know where to refer their HIV-positive clients.

To alleviate those fears, JSI created a locale-specific Referral Guide and 'I Just Found Out… Frequently Asked Questions' patient booklet designed to address worries around delivering an HIV positive result. The Referral Guide offers clinicians advice on how to approach the delivery of a positive result, step-by-step instructions about next steps, and information about treatment centers, support organizations, and other essential resources for HIV-positive patients. Three Referral Guides have been developed (Rhode Island, Maine, and Southeastern Massachusetts), and two more are under development.

The patient booklet is designed to provide answers to questions for newly diagnosed persons, and provide referral sources specific to their particular area (Rhode Island, Maine, and Southeastern Massachusetts). The purpose of these resources is to increase provider comfort with the HIV rapid test by providing referral resources to patients specific to where they live and facilitating the provision of high quality referrals to HIV-positive clients.

Another barrier to implementation is the possibility that the model could adversely affect clinic flow, efficiency, and staff satisfaction. Betsy Vahey, the Quality Improvement Coordinator of the East Bay Community Action Clinic said, "Initially we thought it was going to be really hard. We had tons of questions, the staff had tons of questions: How are we going to do it? What are we going to do with the patient? What are we going to do with the results? What are our resources if we have a positive? I think they were all really valid questions, but, it ended up being a lot easier than we imagined." She added "I talked to our medical director this morning, and she said 'We're very glad we went ahead with it.'"

A recent evaluation in Rhode Island began with interviews of both staff and administrators about their experience with the training and with the transition. Providers, staff members, and patients are satisfied with the new model and its relative ease of implementation. Maria Gilman, a nurse practitioner from one of the implementing clinics commented, "I haven't done a traditional [test] since we transitioned to rapid because patients get their results the same day, and that's very attractive to them. We have a lot more interest in the HIV test now than when we had the traditional HIV tests."


Related Project:
HIV Integration in Reproductive Health Settings (2008-2009)