Where We Work
Assisting Connecticut with statewide health information technology plan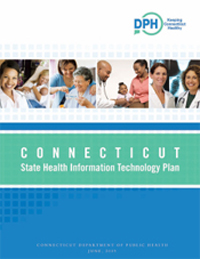 Health Information Technology is widely seen as a 'fundamental tool for successfully improving the quality and efficiency' of the nation's increasingly costly and controversial healthcare system, notes a 165-page report by JSI Research and Training Institute, Inc. JSI developed the Connecticut State Health IT Plan in conjunction with the state's Department of Public Health and key healthcare staekholders across the state.




Connecticut stands to become a leader in adopting modern information technology in medical-records management, according to a recently released plan that positions the state to tap into $20 billion in federal funds for promoting this goal nationwide.
Connecticut envisions a phased-in series of steps over five years to create a standardized electronic system for the state's doctors, hospitals, and other healthcare providers to use in creating, storing, and exchanging medical records. The plan will be submitted to the Connecticut legislature for review by the state's lawmakers.

In contrast with the practice in many other sectors of the US economy, such as the banking and airline industries, paper recordkeeping prevails in the healthcare field. It is estimated that only 8 to 12 percent of hospitals, and as few as 4 percent of ambulatory care providers, utilize comprehensive electronic medical records.

Completion of JSI's report coincides with the Obama administration's identifying health information technology as a key element of its high-priority healthcare initiative for 2009. Already included in the "economic stimulus package" is the $20 billion health IT provision, formally known as the Health Information Technology for Economic and Clinical Health Act (HITECH Act).

JSI's study, which is attuned to federal technical and policy standards, drew on input from healthcare providers, consumer representatives, senior healthcare executives, and other interested parties across the State of Connecticut, as well as on the best-practices research in other states that have implemented health information technology. Research indicates that an electronic recordkeeping system can improve medication safety, compliance with treatment guidelines and hospital-workflow efficiency, according to the study.

For example, the report says, "Instead of primary care providers using limited time in a patient visit searching for laboratory results and patient histories in a paper chart or ordering duplicate or unnecessary tests, providers will have this data easily accessible and presented in formats that are useful for healthcare decision making and patient education."

To implement the Health IT system in Connecticut, the report recommends a sequence of actions by government and other healthcare stakeholders, beginning with legislation to establish a governing body and an advisory committee.

Additional recommendations from the plan include:


Hire Professional Management staff, headed by an executive director, to oversee the introduction of the health information management system
Appoint standing subcommittees to oversee operations, governance and finance matters, plus ad-hoc subcommittees to help formulate policies around such things as patient privacyand conusmer advocacy
Devise a communications strategy—encompassing email distribution, web sites and newsletters—to publicize the state's commitment to Health IT and to explain how the system will work
Provide technical support and training resources to enable Connecticut healthcare professionals to take full advantage of the system
Monitor federal funding sources, particularly those arising from the 2009 stimulus package, to pay for as much of the state's Health IT improvements as possible

The report also emphasizes the importance of an "inclusive process that informs and educates the state's healthcare professionals and consumers." Another key to the plan's success, the report continues, will be increased transparency in the selection of pilot projects and the distribution of funds.

Related Project:
Connecticut Statewide Health Information Technology Plan (2008-2009)