Where We Work
"Stop diarrhea!" health camapign in Uzbekistan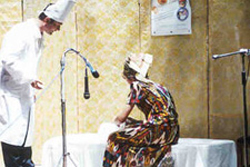 A scene from the soap opera "Simple Truth"--the Stop Diarreah campaign arranged for two new episodes of the popular tv drama to air featuring plots that reinforce the health themes of the initiative.
The ZdravPlus Project joined with the Ministry of Health, the Ferghana Oblast Khokimiat and Health Department on May 21 to launch a new health promotion campaign, "Stop Diarrhea." In addition to opening speeches, the event featured a health fair in Ferghana Central Park centered on the topics of diarrhea and hygiene. There was a live theater performance; school children singing songs; dance/drama; showing of the new ZdravPlus TV soap opera; and distribution of brochures and posters-all on diarrhea-related themes. The event drew large crowds in Ferghana and received good media coverage.

In a departure from previous health promotion initiatives, this campaign featured parallel opening ceremonies in each of Ferghana's 16 rayon's, thanks to the efforts of the Ministry of Health's health education network, known as Health Centers. Modeled on the oblast ceremony, they featured opening speeches by local dignitaries, health fairs in public areas where people could pick up brochures and posters on diarrhea, opening speeches by local dignitaries, and dramas, skits and songs on themes related to diarrhea and hygiene.

The "Stop Diarrhea" campaign was the last campaign in ZdravPlus' year-long effort to support the third component of the Integrated Management of Childhood Illness initiative. The campaign went hand-in-hand with clinical training for doctors and nurses and supported key IMCI messages designed to reduce the major causes of childhood illness and death.

The campaign aimed to strengthen families' skills on proper treatment of a sick child at home, by increasing liquids, administering oral re hydration solution and nourishing the child. Before the campaign, only 19 percent of young children in Uzbekistan sick with diarrhea received increased fluids and nourishment, and only 32 percent received oral re hydration solution, according to UNICEF's Multiple Indicator Cluster Survey conducted in 2000. The campaign also sought to familiarize caretakers with the danger signs that can save a sick child's life if he/she is brought to a health worker for treatment.

The "Stop Diarrhea" campaign ran for six weeks and included a continuation of ZdravPlus' popular soap opera, "Simple Truth," with two new episodes entitled "First Feelings." The new episodes link the story of a doctor-nurse team from a primary health care clinic (SVP) who care for several young children with diarrhea and the story of a young man who falls in love with the nurse. Since he is younger than her, this courtship runs counter to Uzbek tradition, creating abundant opportunity for drama. Ultimately, because of the nurse's key role in saving a child dehydrated from diarrhea, the older generation relents and allows the wedding to happen. The campaign's key messages were reiterated throughout the drama and reinforced through TV and radio spots, newspaper articles and advertisements that saturated the media in Ferghana. New brochures and posters on diarrhea and hygiene, distributed through primary health care clinics, health centers, NGO's and schools provided more in-depth information.

Interpersonal communication is always a key component of ZdravPlus' health promotion campaigns. Health centers, NGO's, schools and SVP's participated. Among the events they organized were "community conversations" on diarrhea, a stand with health information at one of the largest bazaars in Ferghana, screenings of the "First Feelings" video followed by discussions on the messages in the video. A live theatre troupe also toured the oblast, giving performances of a drama on diarrhea in each rayon.

Probably the most innovative event was a song contest among schools in the oblast, with the prize going to a Quva rayon elementary school for a song coupled with a skit about a girl who failed to follow correct hygienic practices and got diarrhea. The school received a TV as a prize and performed its winning song/skit at a number of diarrhea campaign events.

Multi-media campaigns on health topics were unheard-of in Uzbekistan before ZdravPlus began its work. The project now conducts two high-profile health promotion campaigns each year to educate the population on health issues and encourage them to be more responsible for their own and their family's health.

A baseline survey of public knowledge was conducted prior to the campaign and a post-campaign survey will provide data on the extent to which the project achieved its campaign objectives.
Related Project:
Central Asia Quality Health Project (ZdravPlus II Project) (2005-2009)