Where We Work
MCHIP staff help save a mother's life in Zimbabwe
Maternal and Child Health Immunization Project (MCHIP) staff in Zimbabwe are, in addition to experienced program managers and trainers, skilled health care providers.


In March, 2011, members of the MCHIP team helped save the life of a patient who had given birth at a rural health center (RHC) in Chimanimani district. Though the purpose of the team's visit that day was to help the Chimanimani district nursing officer (DNO) provide regularly scheduled follow-up and mentoring to health facility staff (a key part of MCHIP's facility-level quality improvement activities), the team found a patient suffering from postpartum hemorrhage, a life-threatening condition and a leading cause of maternal death in Zimbabwe and around the world.

Earlier that morning after five hours of labor, Precious Gudyanga delivered a healthy daughter. Because there was no midwife at the health center, the baby was delivered by a primary care nurse. When the MCHIP team made the rounds with the DNO and health facility staff, they saw Precious in the postnatal ward and approached her. She complained of thirst, dizziness, and weakness and upon closer examination they discovered that Precious was bleeding heavily and had postpartum hemorrhage (PPH).

As is common in many rural health facilities, the health center had run out of ergometrine and oxytocin, two life-saving drugs needed to prevent postpartum hemorrhage. Fortunately, the DNO had brought some with her. Together, she and the MCHIP staff not only treated and saved Precious, they demonstrated emergency management of postpartum hemorrhage to the entire RHC staff.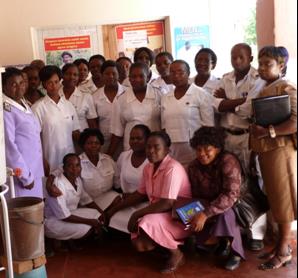 After Precious stabilized, the MCHIP team led an impromptu training on PPH for 19 health care workers, including eight primary care nurses and three nursing students. Topics included the causes, primary prevention, and management of PPH as well as active management of the third stage of labor. Facility staff expressed appreciation for the training, as well as for the other quality improvement measures that MCHIP had supported at their fac ility.

Three days after Precious had her baby, MCHIP district staff visited her at home. Precious was recovering and regaining strength, and her daughter was feeding well. Precious said she was happy that the team had come at the right time. She acknowledged that their help likely spared her from a costly transfer to a referral hospital 60 km away, a prohibitively expensive blood transfusion, and perhaps even death.

JSI is a partner on MCHIP, USAID's flagship maternal and child health project. Under subcontract to JHPIEGO, JSI is leading MCHIP implementation efforts in Zimbabwe.

Image 1: Precious and her new daughter
Image 2: Health care workers received an impromptu training on postpartum hemorrhage.


Related Projects: Maternal & Child Health Integrated Program (MCHIP) (2008-2014), Maternal and Child Survival Program