Where We Work
Family planning and reproductive health taught by "Together for Health" in Ukraine



Svitlana Dubina is the director of IEC VIS. Catalyzed by USAID grant support, IEC VIS has evolved into a self-sustaining NGO that provides FP/RH health education and health promotion services to communities in Ukraine.

Beginning as a small Together for Health (TFH) grantee, IEC VIS has grown, joining a coalition of projects throughout Ukraine that seek to improve FP/RH and gender equality throughout the country.

"TFH gave us the training, tools, and support to develop our own local strategy that we believed would make the strongest impact. Training taught us not only how to talk, but more importantly how to listen, and has helped bridge the gap between medical professionals/medical structures and everyday people seeking information about FP/RH," said Svitlana.

IEC VIS has helped build a network of trusted and trained doctors and nurses, to whom they can direct youth for reliable and discreet medical advice. IEC VIS has expanded its work to include reproductive health and rights of the disabled, HIV and AIDS education, gender equity, and work with displaced peoples. IEC VIS collaborates with like-minded groups and recently won a small project to support gender equality initiatives in the region.

Svitlana sees a great need to change the conversation on human rights in Ukraine. "IEC VIS can't be a lone organization fighting for rights, but rather we need to be the organization that helps ordinary Ukrainians realize that these are in fact universal rights worth fighting for."


In 2007, when Svitlana Dubina first began working with the USAID-funded family planning and reproductive health project "Together for Health," she was shocked at the almost total lack of reproductive health knowledge among Ukrainian youth. Long-standing historical taboos had not only limited open discussions about family planning and reproductive health (FP/RH), but the lack of available, accurate information allowed incorrect (and sometimes harmful) myths and misconceptions to take hold. When asked what methods existed for preventing pregnancy, adolescents commonly mentioned the pull-out method, abortion, and even using Coca-Cola as a contraceptive. Schools offered almost no sexual education; at most students were given materials to take home for self-study.

Inspired to change this situation, in 2007 Svitlana received a grant from Together for Health (TFH) and joined TFH's training-of-trainer's program. There Svitlana and other TFH-supported colleagues learned how to provide FP/RH-focused information to adolescents in Ukraine's Vinnytsya region, with the objective of helping youth make healthier, more informed reproductive and family planning choices.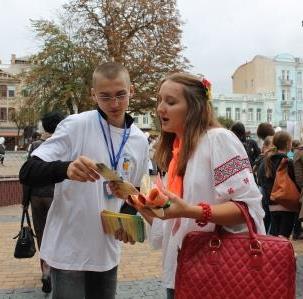 IEC VIS volunteers support community youth to make more informed reproductive health choices.

TFH helped Svitlana's organization, Vinnytsya NGO Informational-Educational Center or "IEC VIS," increase its capacity to conduct health promotion and health education activities. TFH also supported IEC VIS to expand its volunteer program. Using volunteers trained by TFH, IEC VIS began distributing pamphlets, providing informal peer-to-peer counseling, and giving out contraceptives in weekly markets in their area.

The organization began reaching youth ranging in age from early teens through university. Signaling both their effectiveness and the huge demand for information in the community, IEC VIS volunteers quickly became the "go-to" source for reproductive health information and contraceptive resources.

Svitlana was inspired by how, over time, attitudes of youth in the region shifted as they began to use the information they received. Thinking back, Svitlana said, "The real inspiration was the change in the youth. Social attitudes about abortion were changing before our eyes. When a boy told his girlfriend that contraceptives were unnecessary because she could always get an abortion, the look of shock in the eyes of the youth surrounding him was evidence of changing attitudes. Perhaps results weren't instant, but when they came, they were really inspiring. People began to see that they did have options when it came to family planning and their reproductive health."

IEC VIS stopped receiving financial support from USAID through TFH in 2011, when the TFH project ended. However, in an inspiring example of sustainability, IEC VIS continues its work to this day, a full three years after USAID's financial support ended. The NGO now raises its own funds from community and other donations, and uses these resources to support a network of over 50 volunteer trainers who distribute FP/RH materials and provide FP/RH counseling.

Recently, USAID held a community fair in the region for all USAID-supported projects and others working in the oblast to celebrate National Contraceptives Day 2014. Despite having no direct USAID funding, IEC VIS organized over 150 volunteers for the event, who gave out information and provided free FP/RH counseling throughout the city.

At the event, USAID representatives saw IEC VIS volunteers wearing "Future Worth Planning" t-shirts and asked them about their work. IEC VIS members said their NGO was originally trained by USAID's TFH project (and they now collaborate on technical issues with the TFH successor project, the USAID-funded Healthy Women of Ukraine Program). They said IEC VIS is so committed to its mission that the NGO now raises its own funds to continue implementing FP/RH health activities.

Today, Svitlana is hopeful that IEC VIS will be able to build off the ongoing momentum for change in Ukraine, though she acknowledges new challenges. "With the current political situation, it is of course a great time for affecting change. However, we also have many displaced people, students, and families. This is an important demographic that we must target–explaining responsible behavior and attempting to lower high-risk actions of youth. We cannot let our prior work take a step back, we must continue to be proactive."

Related Project:
Ukraine - Healthy Women of Ukraine Program (2011-2016)