Where We Work
Procurement efforts by the USAID | DELIVER PROJECT help diagnose malaria in Senegal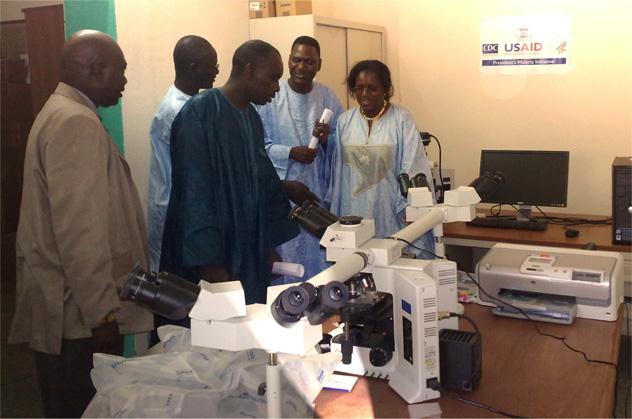 Health officials look at the eagerly awaited microscope, procured by the USAID DELIVER PROJECT, at the Section de Lutte Antiparasitaire (SLAP) in Thies. Left to right: Cheik Yade and Samba Ngom (SLAP), Abdoulaye Diop (National Malaria Control Program), Ngayo Sy (SLAP), and Rodio Diallo (IntraHealth International.)

Senegal, a country where the entire population is at risk of contracting malaria, has long been adversely affected by the lack of tools and training to diagnose the disease. Poor quality or non-functioning microscopes, the unavailability of laboratory supplies, an insufficient number of technicians trained to conduct microscopy, and poor quality assurance and control have hindered diagnostic testing for malaria. With only 13 percent of malaria cases confirmed in a laboratory, the risk of drug resistance, and the increased cost of new first line therapies, it was clear that the country needed the necessary equipment and supplies to correctly diagnose the disease.

In 2006, a needs assessment identified 82 sites in Senegal—mainly district health center laboratories—that lacked functioning microscopes and other equipment and ready supplies of stain and other consumables. Teaching microscopes were also identified as a need: one for multiple-person viewing and a second one for digital photography, including accessories for storage of images and projection in a classroom setting.

Two initial orders for most of the standard microscopes had been placed through UNICEF, but the available money was not sufficient to purchase all the needed equipment. Without teaching microscopes and supplies, the training of laboratory technicians could not go forward. The USAID DELIVER PROJECT—a project managed by John Snow, Inc that supports the U.S. Agency for Development's (USAID) malaria prevention and treatment programs by procuring, managing, and delivering malaria commodities—agreed to help procure the remaining microscopes, equipment, and consumables for malaria diagnostics at district laboratories and for a teaching facility at the Section de Lutte Antiparasitaire (SLAP) in Thies. SLAP is part of Senegal's Ministry of Health and Prevention; it ensures high-quality diagnosis for malaria and other parasitic diseases.

Although the goal of this particular procurement was to purchase only a few microscopes, a wide range of other products needed to be obtained from sources in the United States and Germany. In all, using various shipment and transportation strategies, 82 different items were procured from seven different sources. The items ranged from high-tech microscopes to digital cameras, computers, moniters, various types of laboratory equipment and supplies—some requiring special handling—and even a number of hair dryers used to prepare slides.

Rudolph Peltier, procurement specialist with the USAID DELIVER PROJECT, coordinated the lengthy procurement process, which ended only after the equipment was installed and ready for use. Rudolph researched the products to be ordered; determined how to obtain the best products at the best price; contracted with vendors; arranged for proper packaging, shipping, and warehousing; and ensured that the paperwork for the equipment was properly completed for the customs' clearance. "It was a long and complicated process," Rudolph explained. "And there was at least one month of clarification of the specifications of the products." The wide range of products meant there would also be a wide range of packaging, shipping, and warehousing requirements to be coordinated, ensuring that the products would reach Senegal in good condition.

In November 2008, just five months after placing the order, Dr. Robert Perry (President's Malaria Initiative (PMI/USAID mission/Dakar, Senegal) received the shipment he requested for microscopes and laboratory equipment. With vendors providing technical help through conference calls, the teaching microscopes were installed in the Thies at SLAP. The equipment was quickly used to train laboratory technicians from the district and large sub-district laboratories; and, to ensure good quality and quality control, they were also to train supervisory technicians who visit district laboratories. Technicians expressed their pleasure with the training as well as with the equipment.

The arrival of equipment and supplies immediately increased the capacity of laboratories to perform malaria diagnosis and, subsequently, the rate of confirmatory testing. The laboratory confirmation data is being tracked through the National Malaria Control Programme's (NMCO) routine collection of malaria program information. Because the training on the use of microscopy to diagnose malaria were held during the last part of 2008, the full impact of the trainings will probably be seen in 2009. "The people in Senegal are very happy and excited to have received this equipment, and it should greatly help improve the quality of malaria diagnosis in Senegal," noted Dr. Perry. Providing microscopes and supplies to health facilities in Senegal not only improves the overall quality of care in malaria, it also reduces the over-prescription of antimalarials, delays the development of resistance to antimalarials, and eliminates expenses for unnecessary treatments—benefits that will be of immeasurable help in PMI's efforts to reduce malaria deaths in Senegal.


Related Project:
USAID | DELIVER PROJECT: Task Order 1 (2006-2012)