Where We Work
Maternity hospitals create a supportive environment for mothers-to-be in Russia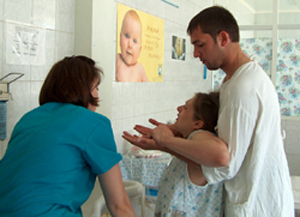 A woman receives support from her husband while laboring in a maternity hospital that practices family-centered maternity care.

"I didn't part with my son from the moment of birth until we were discharged from the maternity," says Natalia Z, 39, a mother in Tyumenskaya oblast. "And it was so pleasant to have my husband and my daughters beside me!" she continued.

Much has changed in the lives of many families in Tyumen thanks to the Maternal and Child Health Initiative, a program designed to improve maternal and newborn health care supported by USAID and implemented by JSI Research & Training Institute, Inc. (JSI).

In Tyumenskaya, the Maternal and Child Health Initiative worked to make family-centered maternity care interventions such as private delivery, partners present during labor and birth, and rooming-in part of the standard of care and universally available to all families. Before the initiative, these services were available to only a few and at a prohibitively high cost.

As in Natalia's case, it is now the practice for mothers and their newborns to spend all their time together after delivery. Mothers, fathers, and their newborns are no longer separated within the first minutes of their children's lives. It is hard to describe the emotions that parents feel when observing the wonder of childbirth. "Soon after delivery, a nurse helped attach my son to my breast," remembers Natalia Z. "He actively began working. I don't remember if I've ever experienced anything of this kind before."

"We delivered in a separate delivery room with all our family members," says Galina P., 25 years old. "My husband did his best to help me. I could choose a position for labor that was comfortable for me. Before I had time to understand anything, a beautiful baby was lying on my belly. "My sonny," I said, "how nice you are!"

"We have confirmed that a maternity hospital can be a real home-like environment for a future mother, a father, and a baby, where all the attention of medical providers is aimed at assistance and support of a family in this unforgettable and unique moment of birth," says Olga Gorbunova, chief OB/GYN of the oblast.