Where We Work
Health brigades overcome geography in Bolivia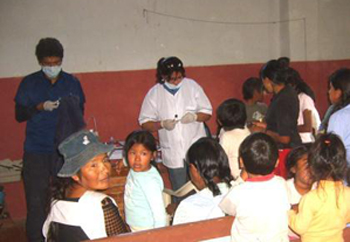 Health professionals provide services to community members in Yungas.




The Health Management and Quality (GCS) project coordinated with Bolivian local and national authorities to send mobile health brigades to deliver comprehensive health care to hard-to-access regions with limited human resources. Dr. Dora Ticona,a key organizer of health brigades in the community of Mercedes summed it up thusly. "This is a very important event for people because we bring a large number of medical personnel including doctors, dentists, nurses, and lab technicians who can diagnose cases of tuberculosis and leishmaniasis."

The mobile brigades provided care through multidisciplinary teams in whatever space is made available to them. In the community of Mercedes, a small but comfortable church was made provided to the dentists, doctors, and nurses who took vital signs, weight and height
measurements, and gave injections, vaccines, and medications. "We settled in to receive the people who came in great numbers because the community knows that GCS is serious and is at their service. They hear 'USAID' and relate it to good care so the project pulls in more people," said Nurse Beatriz Chambi.



GCS's mobile health brigades identify and treat respiratory illness and tropical diseases; attended children under five years of age and women of childbearing age; and provided medical and dental care to the general population.

In the municipality of La Asunta there is only one odontologist, who is located in the hospital. The brigades provided dental care, fluoridation, and tooth extractions to communities outside the city.

Josefa Laime awaited fluoridation treatment for her son Luis. "The first time that I saw a dentist I lost many teeth. I want Luis to have good teeth. I´m happy but nervous, these doctors come from far away for us. I asked Luis to open his mouth wide so that the doctor won´t be annoyed," she explained.

The brigades succeeded largely because of the support of the municipal health authorities, the heads of the community health facilities, and GCS. Word of their services spread quickly. Fermín Condori was one who spoke the brigades' praises. "I am a little weak and get sick often. Though I´ve had to wait, they have cared for me well. I trust that they are going to cure me because people tell me that they (the brigadistas) have already been to other communities curing people like me".


Related Project:
Bolivia Health Management and Quality (Gestion y Calidad en Salud) Project (2005-2011)