Where We Work
Educating people about HIV prevention and care at local markets in Zambia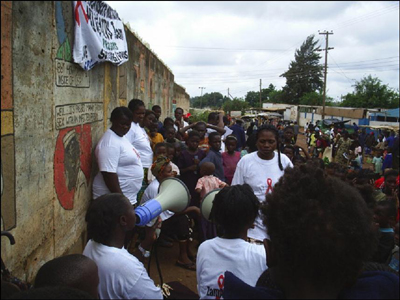 Peer educators in action in front of a huge market crowd.

The Support to the HIV/AIDS Response in Zambia (SHARe) Project, funded by USAID under PEPFAR and implemented by JSI Research & Training Institute, Inc., strived to reduce the impact of HIV/AIDS and improve the quality of life for persons affected by HIV/AIDS in Zambia. By strengthening leadership, building local capacity, and improving the policy environment, the project supported the institutional response to HIV/AIDS. SHARe worked with the public and private sectors to establish workplace programs that strengthen HIV prevention, treatment, care and support services for employees, families and the community at large.

One of SHARe's local partners, ZamAction, developed an far-reaching, innovative way to reach these goals: During 2005's World AIDS Day, ZamAction and a group of peer educators held a sensitization campaign at the sprawling Kazimai market in Lusaka. This was the first such campaign held at a market in Lusaka and the response from the market community was overwhelming. One marketeer expressed his gratitude for the program, explaining, "We are very happy you remembered us today, no one has ever done this before, batilekelela (we have been neglected until now)."

During the sensitization sessions, peer educators and ZamAction staff performed skits and spoke to the assembled crowds through megaphones. The topics they covered included HIV prevention messages, the benefits of knowing your HIV status, resources for HIV and AIDS care and support, as well as information about antiretroviral treatment. The marketeers and passersby were given an opportunity to ask questions and a booth for Voluntary Counseling and Testing (VCT) was set up in another corner of the market where people were encouraged to get tested.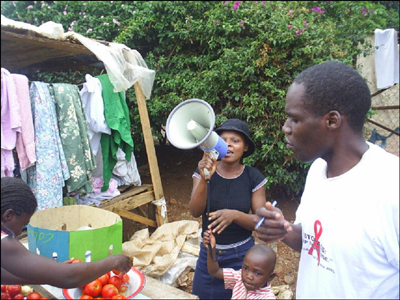 A Marketeer broadcasts important information about HIV prevention through a megaphone at the Kazimai market in Lusaka.

The peer educators, palliative caregivers and psychosocial counselors who helped run the event were selected and trained by the SHARe project and other supporting partners. After training, which ranged from one week for peer educators to eight weeks for psychosocial counselors, the trained marketeers came back to share their knowledge with friends and community members. ZamAction provided supportive supervision to them to assess the progress of the program and to ensure that correct messages were being delivered.

The market proved to be an effective venue for educating local, underserved communities about a important health issue. Throughout the process, SHARe staff learned valuable lessons as to how to maximize the effectiveness of similar marketplace campaigns in the future.


Related Project:
Zambia SHARe II: Support to the HIV/AIDS Response in Zambia (2010-2015)