Where We Work
Chief Chikanta brings agricultural, financial, and health and HIV-related services to his chiefdom in Zambia
Chief Chikanta is proud of the accomplishments of his chiefdom and his people as he looks back over the past two years. In June 2011, Chikanta chiefdom was like most other chiefdoms in Zambia: grappling with high poverty levels and high levels of HIV, and with no clear roadmap for changing this situation for the better.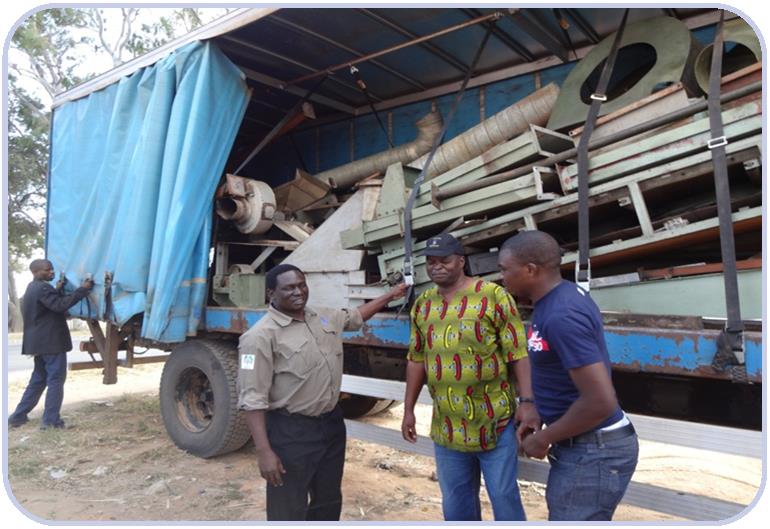 Chief Chikanta (center) receives food processing machinery.

By November 2011, Chief Chikanta and his people—with technical support from the USAID-funded Support to the HIV/AIDS Response in Zambia (SHARe II)—were in the midst of planning for the development of their chiefdom; they were creating a roadmap on how to deal with poverty, HIV/AIDS, high levels of illiteracy, gender inequities, and other developmental issues. The people of Chikanta will tell anyone who asks that this was the first time they had ever met as a chiefdom to discuss development, and that the planning process was equally as important as the product: as they were planning, they were constantly making changes, in both mindset and practice, to foster development. By November 2012, Chief Chikanta was standing tall and proud with his people as the Chikanta Chiefdom Development Strategic Plan: 2012-2016 was launched by His Honor Dr. Guy Scott, the Republican Vice President, at Chuungu palace in Chikanta.

Since then, much has happened for this Kalomo District chiefdom, one of the most isolated in the entire country. Because of the decrepit state of the chiefdom's roads as well as its limited telecommunications and electrical infrastructure, farmers who make up the majority of the chiefdom's population had virtually no access to banking services and had great difficulty accessing agricultural inputs and resources. They did, however, have fertile soil and good rainfall, perfect for growing maize, and a chief who was determined to improve life for his people. Chief Chikanta and his people also had the support of the SHARe II project, which provided technical assistance and support during and after the strategic planning process.

The Chikanta Chiefdom Development Strategic Plan identified agriculture as the economic mainstay of the chiefdom, highlighting improved agricultural productivity, marketing, value-addition, and equitable participation as key areas of focus for agricultural development. Recognizing the difficulties that the chiefdom's farmers faced and the associated high costs of buying and transporting agricultural inputs and products on the region's poor roads—and cognizant that no one else would drive the development of his chiefdom except the people of Chikanta—Chief Chikanta went to the strategic plan to get guidance.

Drawing from what the chiefdom undertook to do in the strategic plan, the chief took matters into his own hands. He contacted agricultural and health stakeholders (which had been identified in the strategic plan) and invited them to an agricultural and health fair. The fair was held in a remote, hard-to-reach area of the chiefdom and was intended to give local farmers access to products and resources that could improve their crop yields, incomes, and health, on their doorsteps.

Chikanta Chiefdom had never held an agricultural and health fair, and the people of Chikanta were curious and intrigued. They trooped to the fairgrounds in the thousands to witness this novelty, not really believing that anyone else would turn up. To their amazement, the stakeholders came!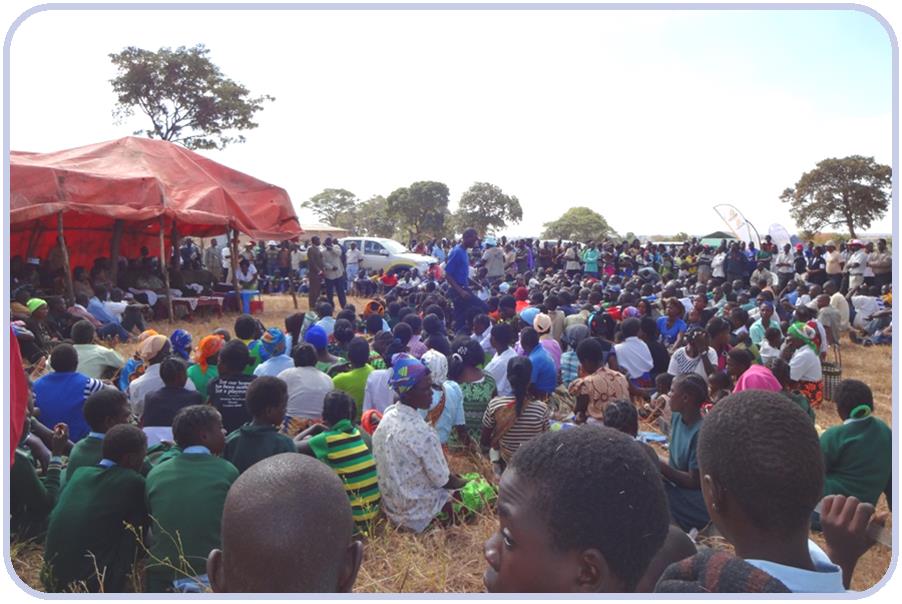 Part of the crowd that attended the Chikanta agricultural fair.

Nine agricultural companies, selling fertilizer, seeds, pesticides, and other goods, brought products for display. One company brought two 40-foot containers loaded with seed, fertilizers, and other products, and others have since followed their lead and opened up shop in the chiefdom. Chikanta farmers now no longer have to travel hundreds of kilometers to access agricultural inputs, because they can buy them right there in Chikanta!

Investrust Bank Plc., which typically only offers services in major towns, responded to Chief Chikanta's call and brought banking services to the fair, offering local farmers an affordable way to deposit money by allowing them to open an account with a minimum balance of only K10 (approximately $1.90 USD). The bank's stand was overwhelmed with hundreds of eager farmers opening their first-ever bank accounts, giving them access to loans and investments, greater cash security, and more options for financial transactions. In another part of the fairground, Mwaroky HIV/AIDS Savers (a SHARe II partner) provided HIV testing and counseling (HTC) at a mobile station. By the end of the day, two counselors had provided HTC services to 128 people, and the two people who tested positive were referred to the local health center for additional HIV-related services.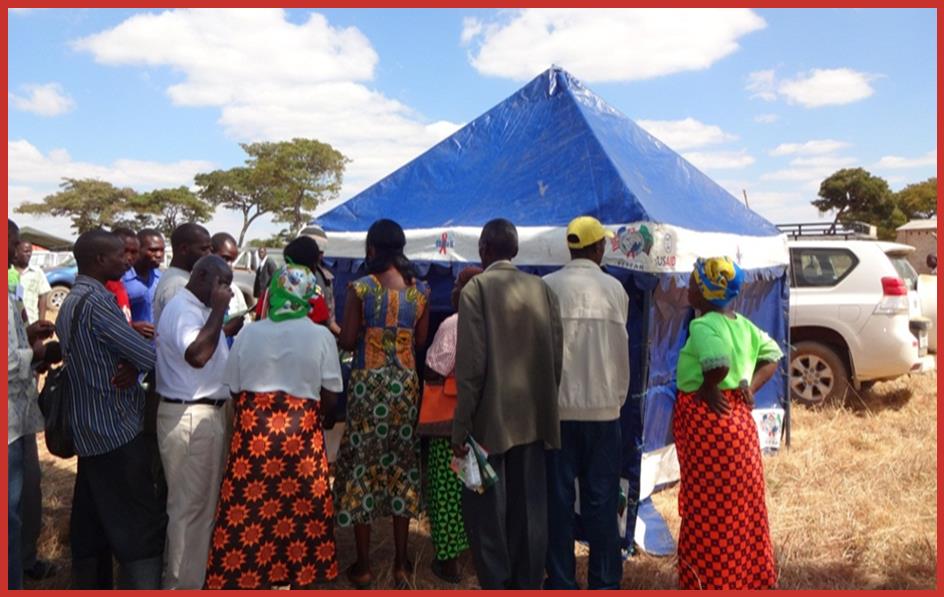 Attendees at the Chikanta Agricultural Fair line up for HTC services.

The people of Chikanta who attended the fair were equally impressive. They were obviously very serious farmers, and they grilled the agricultural companies for information about their various products, making decisions about what would most suit their farming activities. Since May, Chief Chikanta has held two additional fairs in other parts of the chiefdom and another bank, Indo Zambia Bank, entered the market to begin working with local residents.

Since the launch of the Chikanta Chiefdom Development Strategic Plan in November, Chief Chikanta has been on an aggressive campaign to market the plan and engage stakeholders to partner in the development of the chiefdom. He has also been invited to two World Bank meetings on rural development; as keynote speaker at one these meetings, he remarked: "we villagers are not afraid of hard work – partner with us to improve our roads, electrify our rural areas, and guide us on the 'how-to' – then leave the rest to us and we will work hard to drive our development."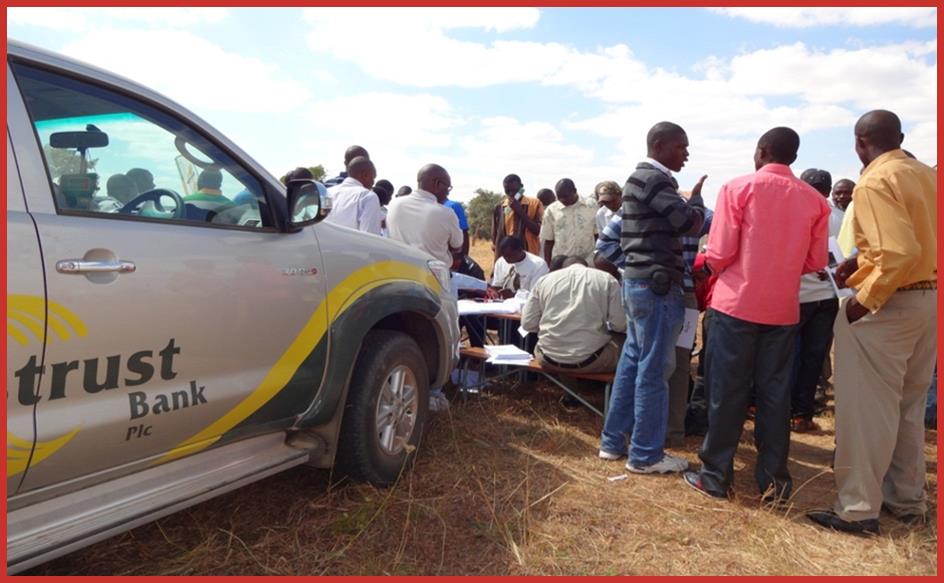 Chiefdom residents at the Investrust Bank booth set up their first-ever bank accounts.

A private sector partner has been equally impressed and has bought into the strategic plan by providing plant machinery and equipment to set up a food processing plant in the chiefdom. This plant, which will be partially owned by the chiefdom, will add value to the maize that is grown locally by enabling residents to produce breakfast cereal and other maize snacks. The Republican President, His Excellency Michael Sata, has also taken note: he visited Chikanta Chiefdom and took time to discuss development with the chief.

In August 2011, before Chikanta Chiefdom embarked on strategic planning, development seemed to be a distant dream, contingent on external assistance and on others' terms and timelines. Now, Chief Chikanta and his people—through the Chikanta Chiefdom Development Strategic Plan 2012-2016, facilitated by the SHARe II project—are empowered to initiate and drive the development of the chiefdom, reaching out to agricultural, financial, health and other developmental partners - locally, nationally, and even internationally. They are connecting partners directly to the people of Chikanta Chiefdom for its continuing development, and are improving the residents' standards of living.





Related Project:
Zambia SHARe II: Support to the HIV/AIDS Response in Zambia (2010-2015)