Publications
Patient Experience Improvement Toolkit: A Guide for Family Planning Agencies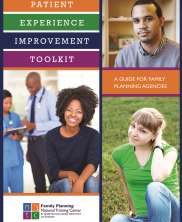 Under a cooperative agreement with DHHS/Office of Population Affairs to manage the Title X National Training Center for Quality Assurance, Quality Improvement, and Evaluation, JSI developed the
Patient Experience Improvement Toolkit: A Guide for Family Planning Agencies
.
The Affordable Care Act has increased competition among providers for newly insured patients as well as provider accountability to patients and payers. To help ensure patient satisfaction, Title X family planning clinics must provide excellent patient experiences. The toolkit provides a step-by-step guide and helpful tools to improve patient experience and increase patient retention and offers simple, actionable advice to make improvements for little or no cost.
The toolkit will help family planning agencies:
- Develop patient experience goals
- Measure and use patient experience data to make improvements
- Use interpersonal skills to improve every visit
- Give the clinic site a makeover (online and offline)
- Respect patient privacy
- Sustain improvements in the long-term
JSI also developed two videos to help in the improvement process:
The
Family Planning Patient Experience Video: Skills to Improve Every Visit
: helps staff improve their interactions with patients by modeling five key interpersonal skills.
Prioritizing the Patient Experience Video: Strategies for Family Planning
: highlights patient experience best practices and successes from Title X-funded family planning clinics in the U.S. The video includes practical information on ways to reduce patient wait times and to provide patient-centered care. JSI/2014.
Download (PDF, 7.25 MB)