Publications
Value-Based Payment Models for Community Health Centers. Time to (Cautiously) Take the Plunge?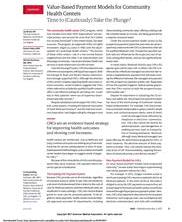 In the current system, community Health centers (CHCs) provide care to all individuals, regardless of insurance status or ability to pay, they are entitled to a set level of reimbursement that is linked to the cost of care for Medicaid patients (standard Medicaid rates are insufficient in many settings). CHCs also receive federal grants to cover care for uninsured patients (but to be eligible, HCs must be federally approved and meet lengthy requirements). Under the current payment model (prospective payment system) because rates are set prospectively, states work with CHCs to determine a flat rate for qualified Medicaid visits, and can also receive supplementary payment from state to cover the difference between managed care payment and prospective payment system rate.
This system is limited by traditional volume-based reimbursement, meaning CHCs have incentives to schedule reimbursable in-person visits for simple issues (some of which could be managed more efficiently by telephone or electronic communication). So the visit volume remains the driving force behind financial stability impeding the evolution of advanced primary care delivery models.
A shift to value-based payment among CHCs could promote higher-quality, more efficient and more patient-centric care. This is an evidence-based strategy for improving health outcomes and slowing cost increases.
Authors: Jay Bhatia, Rachel Tobey, Michael Hochman
Download (PDF, 61 KB)