Publications
Project Summary: HIV Test? I'm on it! Campaign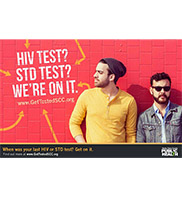 Through the Santa Clara County Social Marketing for HIV/STD Prevention project, JSI used a community-based social marketing approach as the strategic planning framework for developing outreach campaigns to promote HIV and STD testing in several target communities in Santa Clara County. Marketing techniques included social media, designs for print media, adoption and customizing of existing materials, and technical assistance to reinforce messaging and to counter barriers in reaching the target communities.
JSI revamped the successful
HIV Test? I'm On It!
campaign, a county-wide social marketing campaign to increase HIV and STD testing for young Latino men who have sex with men (MSM). Initially developed in 2013, the I'm On It! campaign was based on formative research with MSM populations that identified baseline HIV testing-related knowledge, attitudes, and behaviors; provided feedback on existing HIV testing campaigns and preferred communication channels. The campaign was revamped in 2016 with a focus on Latino MSM between the ages of 18-44. Adaptations included targeted media placements and outreach events, the development of new creative, and materials in both English and Spanish. The campaign was also modified to promote STD testing, in addition to HIV testing. Ads featured the tagline "HIV test? STD test? I'm on it." with a call-to-action to visit
www.GetTestedSCC.org
that provided information about and linked people to testing.h
Check out the social marketing campaign at JSI's
Health Communication Portfolio
as well as a photo essay of the campaign:
HIV Test? I'm on it!" Using Social Marketing to Reach a Diverse Population in Santa Clara County, CA
.
View the campaign:
I'm On It!
Download (PDF, 4.05 MB)