Publications
Maine Health Access Foundation Integration Initiative: Cross-Site Evaluation of Clinical Implementation Grantees final evaluation report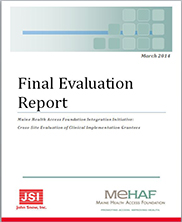 The Maine Health Access Foundation (MeHAF) launched its Integration Initiative in 2006 to improve integration of behavioral and physical health care services as a means of promoting patient and family centered care. To this end, MeHAF funded a series of grants, including planning, clinical implementation (CI), and systems transformation grants.
In January 2009, JSI was contracted by MeHAF to conduct a cross-site evaluation of the work of its clinical implementation grantees. This final evaluation report for this cross-site evaluation includes:
• Evaluation questions, frameworks, and methods;
• Description of grantees and service settings;
• Findings, organized around outcomes related to reach, effectiveness, adoption, implementation, and maintenance; and
• Discussion, which ties findings back to the overall evaluation questions.
This final evaluation report is a culmination of the five-year evaluation effort. John Snow, Inc., 2014.
Download (PDF, 1.23 MB)