Publications
Community Health Assessment Report for Central New York Care Collaborative (CNYCC)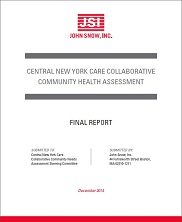 Between July and September 2014, the JSI team worked with the
Central New York Care Collaborative (CNYCC)
to form the collaborative and conduct a comprehensive community health assessment. The health assessment included the following,
Identified leading health issues and the root causes of inappropriate hospital utilization

Characterized the target population and clarified their major barriers to access

Inventoried the region's health-related services and identified gaps in the service continuum
The needs assessment process consisted of a comprehensive review of available national and state secondary data, an online survey of over 170 partners, more than 70 stakeholder interviews, and several community forums held across the Central New York region. Based on the results of the comprehensive needs assessment, the CNYCC selected eleven region-wide projects designed to improve the health of the Medicaid population and reduce hospital readmissions.
Download (PDF, 2.11 MB)