Publications
Integrating Housing Strategies with Health: An Opportunity to Advance Whole-Person Care in California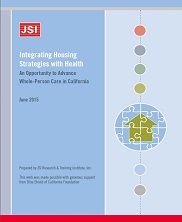 What emerging housing strategies are health systems developing to improve outcomes for high-utilizing, chronically homeless individuals?
This report, supported by
Blue Shield of California Foundation
, is the culmination of JSI's literature review and key informant interviews with California thought leaders focused on just this question.
A number of factors are converging to create a climate of innovation including;
Coverage expansion that has brought homeless and housing insecure individuals into Medicaid in larger numbers than ever before;

Payment reforms that are leading health systems to assume additional financial risk;

Actual and under-discussion changes to Medicaid policy through 1115 waivers, state requests for Health Home funding through Section 2703 of the Affordable Care Act, and other modifications to State Plans;

Growing focus on addressing whole-person needs as a strategy for achieving the Triple Aim (reduced per capita cost, improved experience of care, and improved population health).
This report looks at the rationale for health system investments in housing, exploring the key elements of successful integration between housing and health, and share case examples from promising initiatives in three California counties. This builds on our previous work describing
Opportunities for Whole-Person Care
by applying that framework to a specific, high-priority population. The overarching purpose is to provide information and ideas that compel local leaders from health and other sectors to consider innovative approaches to advance housing as a health strategy.
Download (PDF, 901 KB)