Publications
California's 1115 Waiver: An Opportunity to Move from Coverage to Whole-Person Care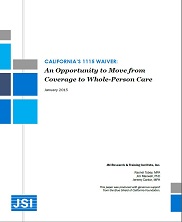 The California's 1115 Waiver: An Opportunity to Move from Coverage to Whole-Person Care proposes a focus on achieving "whole-person care" to help the state reach Triple Aim goals in Medi-Cal. The paper offers a big-picture vision as well as seven specific recommendations categorized under three key levers:
Increase access to effectively coordinated care.

Increase financial flexibility and capacity for shared risk among Medi-Cal providers and delivery systems.

Incorporate focus on social determinants of health.
Download (PDF, 294 KB)