Publications
Healthy Schools Healthy Communities Evaluation Report: Year 1 (2013-2014) Key Findings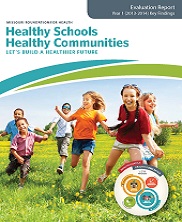 Childhood obesity is a leading public health concern in the United States. It is a complex issue with significant health, social, and economic implications that threaten to reverse decades of progress in improving the health of Americans. Missouri is one of the heaviest states in the country, with 30% of the total adult population and 31% of children ages 10 to 17 obese. While both genetics and individual behavior play a role, the increased prevalence of childhood obesity is a consequence of environmental changes that have substantially modified caloric intake.
The Healthy Schools Healthy Communities (HSHC) initiative is a comprehensive approach established by the Missouri Foundation for Health (MFH) to address childhood obesity in regions of Missouri. The goal is a 5% decrease in the percentage of children who are overweight and obese as measured by the BMI-for-age percentile. The initiative includes a school focus in conjunction with community-based and statewide efforts aimed at improving access to healthy foods and opportunities for physical activity. Work at the school and community level is framed by the Alliance for a Healthier Generation's Healthy Schools Program Framework – of best practices – and the YMCA's Community Healthy Living Index (CHLI). In addition, MFH has contracted with the Alliance for a Healthier Generation, PedNet, TrailNet, Missouri Department of Health and Senior Services, and GMMB to provide training and technical assistance to the local level, multi-sectoral partnerships in communicating and implementing their targeted strategies.
JSI Research & Training Institute, Inc. (JSI) has been contracted by MFH to conduct a comprehensive evaluation of HSHC's school, community, and state-level activities. From the start, JSI has collaborated with MFH, the school and community partners, and contractors to develop and employ a mixed-methods evaluation that captures the complexity of the initiative while ensuring realistic and feasible data collection. Specific objectives of the evaluation include assessing (1) the process of school and community partnerships to develop and implement multifactorial interventions, including their ability to adopt and sustain change, and (2) the impact of a collection of school and community-based interventions, including programs, policies, and environmental changes aimed at promoting physical activity and healthy eating.
This report summarizes key findings from data collected during Year 1 for the thirteen school districts (September 1, 2013 - July 31, 2014) and community partners (December 1, 2013 - June 15, 2014). JSI Research & Training Institute, Inc., 2014.
Download (PDF, 4.14 MB)