Publications
Cancer Disparities/Health Equity Strategic Planning Needs Assessment in Southeastern Massachusetts - Final Report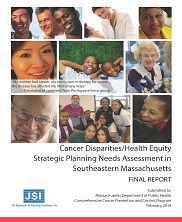 This needs assessment was conducted in Southeastern Massachusetts to assist in the Massachusetts Department of Public Health (MDPH)'s strategic planning to reduce cancer disparities and promote health equity for the region. The assessment was supported and guided by the MDPH Comprehensive Cancer Prevention and Control Program (MCCPCP) as a strategy in the 2012-2016 Massachusetts Comprehensive Cancer Prevention and Control Plan. In March 2013, JSI Research & Training Institute, Inc. (JSI), a nonprofit public health consulting company headquartered in Boston, was selected to carry out the assessment. Throughout the process, JSI and MDPH worked in collaboration with the Massachusetts Disparities/Health Equity Workgroup, comprised of leaders in cancer prevention and control for under-served populations in the Commonwealth.
There were two phases to the assessment: 1) selection of the region, and 2) identifying needs and opportunities to address cancer disparities.
In the first phase, data were analyzed to select a region/sub-region to be the focus of the Cancer Disparities/Health Equity Strategic Planning Needs Assessment. Southeastern MA was selected due to several factors. Among these were a number of disparities in cancer apparent from the recent data. The Southeastern region had higher incidence rates (new diagnoses) than Massachusetts as a whole for all cancers combined, as well as for lung and prostate cancer. Cancer was more frequently diagnosed at a late stage when it can be more difficult to treat and leads to higher mortality. More residents in the region were hospitalized for cancer, with breast, lung, and prostate cancer hospitalization rates higher than the state overall. Mortality was also higher in the region than in Massachusetts for all cancers overall and for lung cancer specifically. There were also cancer disparities by race and gender and a previous study identified disparities in income and education in the Southcoast region (comprised of towns in Bristol and Plymouth counties). Smoking was particularly common in Southeastern MA and it is a major risk factor for chronic diseases including cancer, diabetes, heart disease, and stroke.
In the second phase, JSI, with assistance from the Southeastern MA Regional DPH office, worked with individuals and organizations in the region to develop a broad understanding of the barriers and factors that lead to health inequity. The goal was to identify existing initiatives and how they could be advanced to better promote cancer prevention and control and general wellness in the region. JSI contacted local and regional stakeholder groups to gather information about regional cancer issues and resources. JSI conducted four focus groups with target populations that are at high risk of cancer and held key informant interviews and group discussions with members of area health coalitions, community health workers from cancer education and outreach programs, providers and administrators from health care organizations, and others providing community services in the region.
The process identified needs, priorities, and barriers to care, as well as recommendations for strategies or programmatic options to advance and help inform regional prevention activities, ensure appropriate screening, and improve access to culturally competent, high-quality healthcare services.
JSI developed focus group facilitation guides, recruited participants with assistance from area organizations, facilitated groups, analyzed findings, and produced a final report. A total of 32 community leaders (including 9 community health workers and 11 key informants), 40 residents (11 Portuguese-speakers, 9 non-Hispanic Black men, 6 students in GED adult education classes, and 14 older adults), and 18 hospital and health center providers' perspectives and opinions led to the following key findings. JSI Research & Training Institute, Inc. 2014.
Download (PDF, 2.35 MB)