Publications
Building a Foundation for Health Information Exchange to Improve Poison Control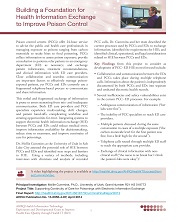 Poison control centers (PCCs) and Emergency Departments (ED) use a fragmented telephone-based process to communicate and share information. This exchange of information is prone to errors stemming from mis- and inadequate communication. Integrating systems to support electronic health information exchange (HIE) between PCCs and EDs could reduce medical error, improve information availability for decision making, reduce time to treatment, and improve continuity of care for poisonings.
This success story highlights Dr. Molly Cummins and her team at the University of Utah in Salt Lake City. They accessed the potential role of HIE between PCCs and EDs and identified next steps and barriers to HIE.
View this
video
highlighting the hampered communication between PCCs and EDs.
Download (PDF, 666 KB)