Publications
Forging a Pathway for Electronic Prescribing of Controlled Substances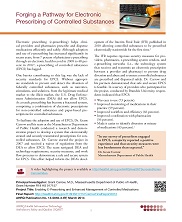 One barrier contributing to the lag of e-prescribing of controlled substances (EPCS) was the lack of security standards for EPCS. Without appropriate standards to prevent and detect the diversion of federally controlled substances, such as narcotics, stimulants, and sedatives, from the legitimate medical market to the illicit market, the U.S. Drug Enforcement Agency (DEA) did not allow EPCS. As a result prescribing has become a fractured system.
This success story highlights Dr. Grant Harrow and his team at the Massachusetts Department of Public Health. They set out to develop a system that electronically created and securely transmitted prescriptions for controlled substances.
View this
video
highlighting the project that developed the first demonstration of e-prescribing.
Download (PDF, 386 KB)